In Brief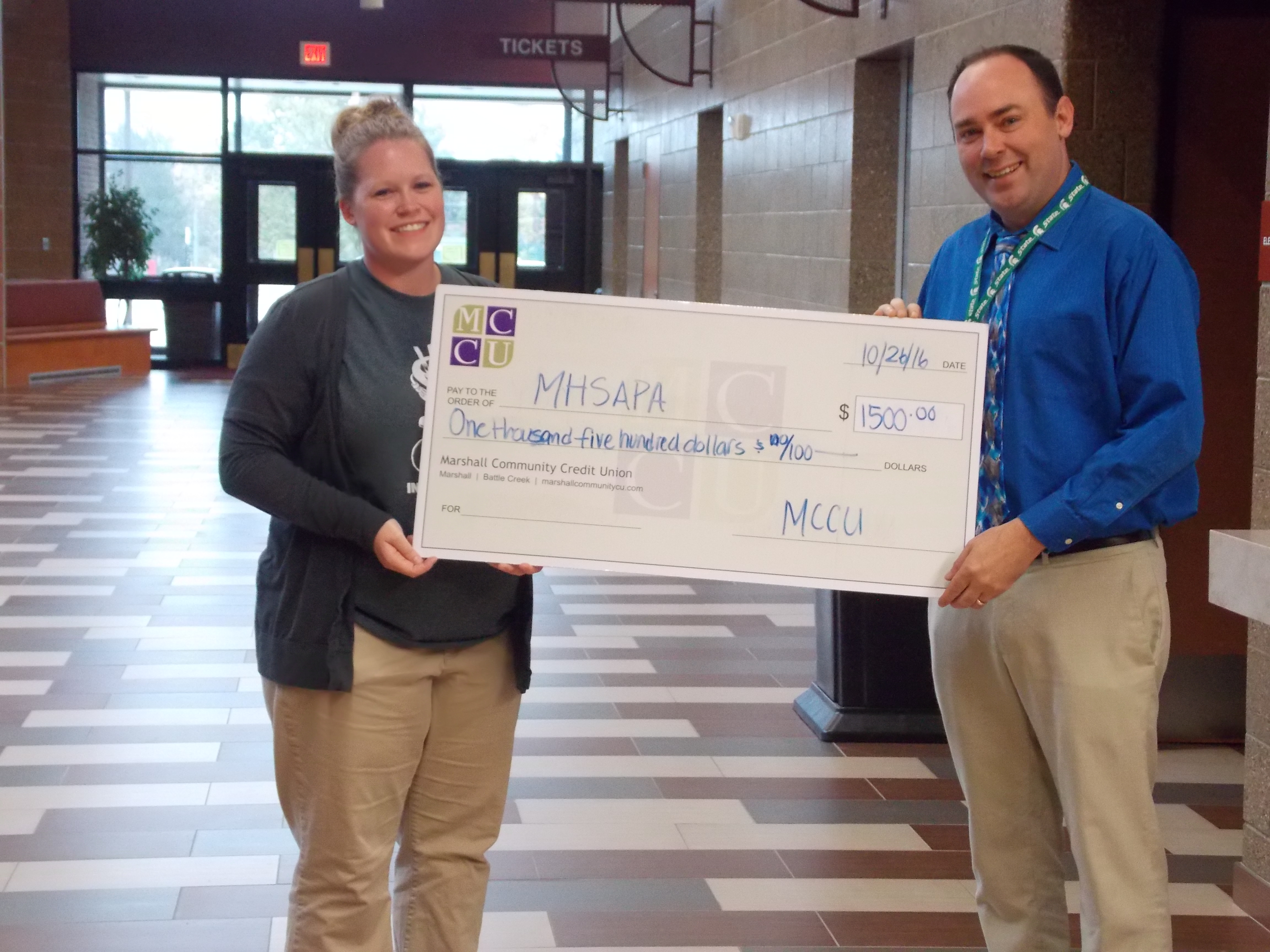 MCCU Sponsor for Marshall High School Auditorium for Performing Arts
\Marshall Community Credit Union (MCCU) is once again a sponsor for the Marshall High School Auditorium for Performing Arts. Acts are already being lined up for the 2016-17 year, like the upcoming Three Men and a Tenor, that will be held on Dec. 9.
Jeremey Root, director of bands for Marshall Public Schools said, "On behalf of Marshall Public Schools, we thank Marshall Community Credit Union for their continued support. I'm excited to be able to work with them again to present what I think will be a great season of entertainment at the high school."
As part of the sponsorship, MCCU will receive eight free tickets to each event held at the MHS Auditorium for Performing Arts. The credit union has decided to raffle these tickets off to interested community members throughout the year. To see when tickets will become available, and how you can enter to win some, follow and like MCCU on Facebook.
BCACFCU & Honor CU: The Power of Collaboration
Battle Creek Area Community FCU (BCACFCU) and Honor Credit Union are pleased to announce their intent to partner together. BCACFCU selected Honor to align resources with in order to offer even greater opportunities for both memberships. Honor has always held its members' financial success at the core of its mission and BCACFCU shares this belief. With their core missions already aligned, it was a great opportunity to combine their resources.
BCACFCU has one branch location in Battle Creek. Joining the two successful credit unions' resources together will allow for increased financial opportunity for members, as well as superior member service. Both BCACFCU and Honor are dedicated to providing solutions for financial success and reinvesting in their local communities. The level to which the combined credit unions will be able to reinvest in the communities they serve will only continue to increase.
"We are excited to be entering a partnership with Honor," states Liz Amundson, CEO of BCACFCU. "Combining forces with an organization that shares our core beliefs and values is key and we look forward to expanding upon our tradition of excellent member service."
"Collaboration is what the credit union movement is all about," comments Scott McFarland, Honor CEO. "We're excited to partner with BCACFCU and the opportunities that will come with working together with this great team and community."
Upon regulatory approval and a positive member vote from BCACFCU members, BCACFCU will become a part of Honor. The partnership will result in a $725 million dollar organization with over 65,000 members across Michigan.
For more information, please join us for a Q&A session at the local BCACFCU branch (240 North Helmer Road, Battle Creek, MI 49037) on Dec. 13 at 5pm. Additional information is also available at both bcacfcua.org and honorcu.com.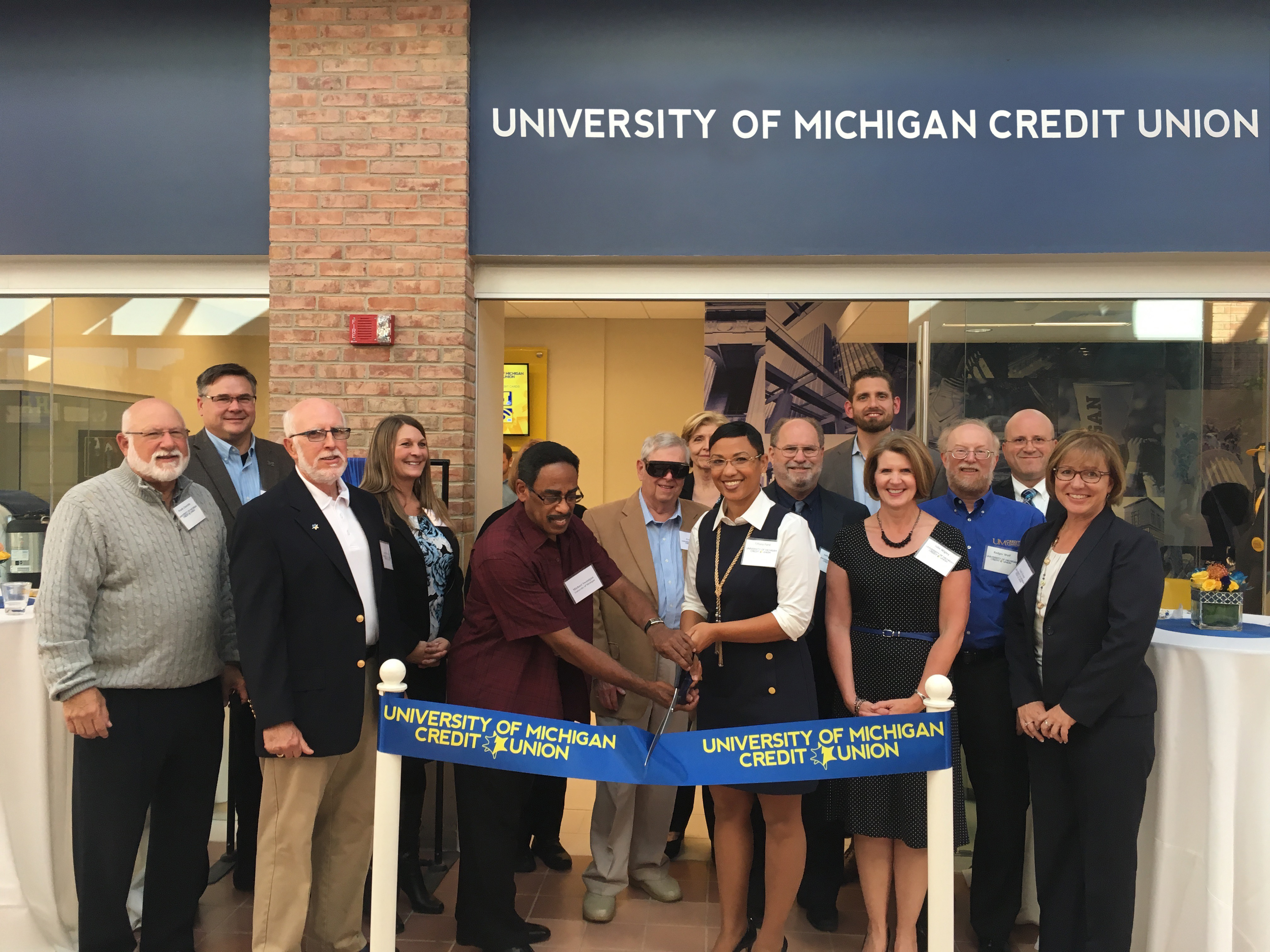 UMCU Re-Opens Newly Renovated UM Campus Branch, Pierpont Commons
The University of Michigan Credit Union (UMCU) celebrated the newly renovated Pierpont Commons Branch with a re-grand opening to the public early this October.
This freshly upgraded branch is located on the first floor of the University of Michigan's Pierpont Commons building, on North Campus. This location is important to UMCU in the effort of catering to the Leaders and Best. Specifically students, faculty, and staff of the School of Engineering, School of Music, Theatre and Dance, and School of Art and Design who are in walking distance of this branch and able to visit UMCU at their convenience.
Innovative features have been added to this branch to better address members needs with technology, such as iPads and video conferencing with a UMCU Team member, to provide quick and convenient financial services.
The modernized style of this branch exemplifies UMCU's dedication to the University of Michigan. In addition to the sleek maize and blue furniture, the mural spanning across the back wall features North Campus photos that capture the unique community and students that make the area so inspiring.
"We are incredibly gratified with the new design of this branch. In addition to providing innovative and convenient financial services to our members, there is still the familiar warmth of the UMCU atmosphere," Tiffany Ford, UMCU President and CEO.
Kellogg Community Credit Union Participates in the Salvation Army Angel Tree
Kellogg Community Credit Union (KCCU) is pleased to announce their continued support of the Salvation Army Angel Tree program. This will be the fourteenth consecutive year that KCCU will be collecting toys and gifts for children in need this holiday season.
Through Dec. 19, KCCU will have Angel Trees at all of their Battle Creek locations, as well as their Romence Road and Gull Road branches in Kalamazoo County. Donations include any unwrapped toy or gift card, appropriate for all ages up to 17-years-old. Donors may choose the gender and age of the child or "angel" who will receive their gift.
KCCU would like to encourage anyone who is looking to bring a little joy into a child's life this holiday season, to stop by any of their participating locations and drop off an unwrapped gift. The Salvation Army Angel Tree Toy Drive hopes to collect and distribute toys to 25,000 children in need throughout West Michigan this season.
"The Salvation Army Angel Tree program is a wonderful program that brings so much joy to many children in West Michigan," says Tracy Miller, CEO of KCCU. "The holidays can be hard for those who are in need, so we welcome both KCCU members and members of the community to stop by and drop off an unwrapped toy to help brighten a child's Christmas."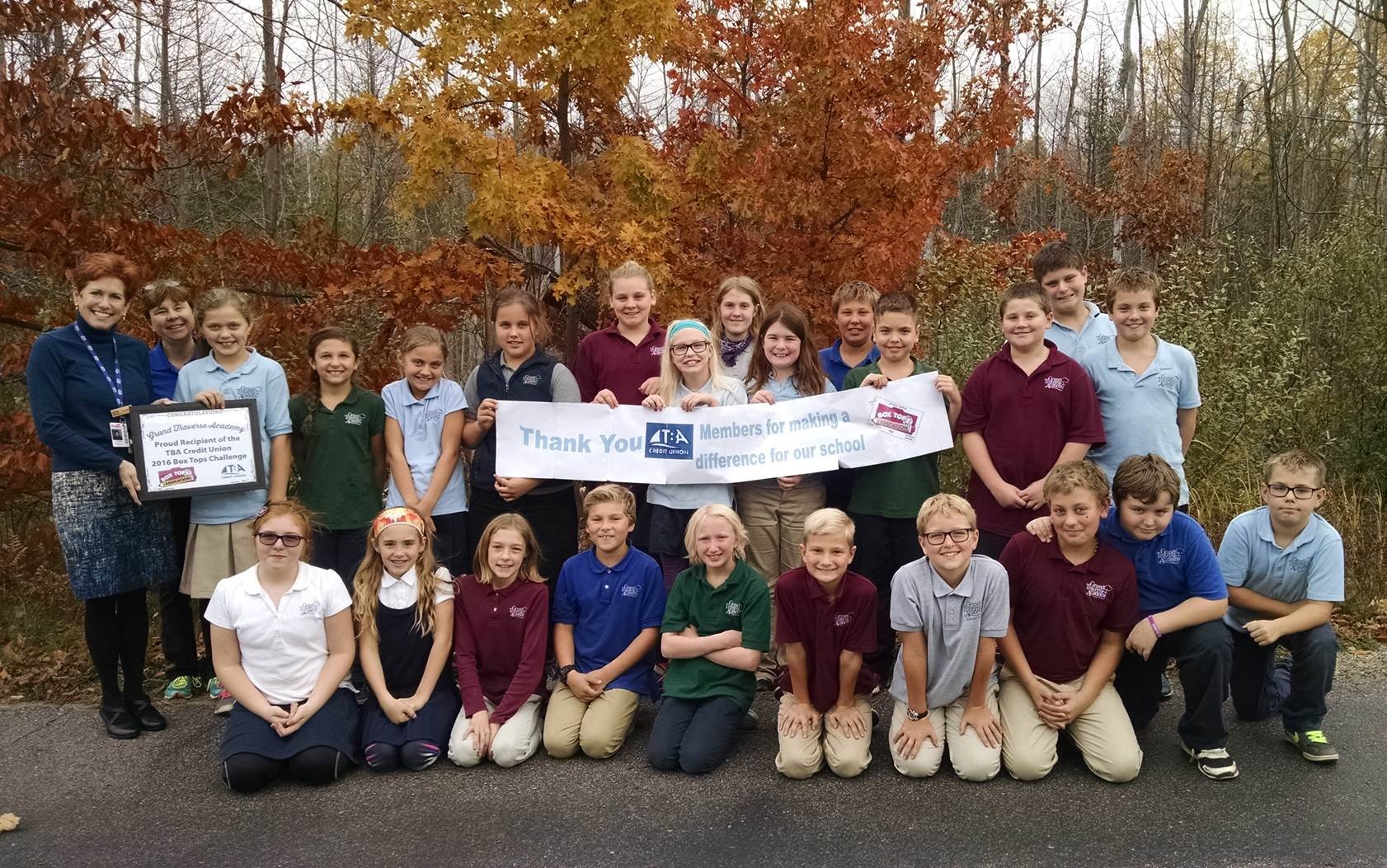 TBACU Announces 2016 Box Tops Challenge Winner
TBA Credit Union is proud to announce the winner of the 2016 Box Tops Challenge is Grand Traverse Academy.
Launched in January, the 2016 Box Tops Challenge created an opportunity to raise money for local schools with a twist. From Jan. 26 through Sept. 30, the participating schools competed in a photo competition on TBA Credit Union's Facebook page. The participants shared their photographs throughout Facebook to gather votes for their school to win the challenge. The competition was very competitive with the participating schools alternating in the top spot for the last month of the competition.
On Sept. 30, the voting period ended and Grand Traverse Academy received the most votes, with 942 likes on their submitted photograph. TBACU would like to give an honorable mention to their runner up, Cherry Knoll Elementary, who came in second with 866 votes.
Box Tops valued over $175 were presented to Julianna Schuetze at GTA. "Thank you TBA Credit Union for creating the Box Tops Challenge and inviting GTA to participate. Box tops are a valuable resource that allows schools to purchase much needed items," said Ms. Schuetze, continuing, "The campaign got the GTA community involved and brought more awareness of the value of box tops."
"We're always looking for different ways to support our community and give back," said Christie Dompierre, Marketing Director. "We are excited to offer this new opportunity for schools."
For more information about TBA Credit Union, visit tbacu.com or call (231) 946-7090.
Go to main navigation