In Brief...
Saginaw Medical Federal Credit Union Supports Child & Family Services of Saginaw

Saginaw Medical Federal Credit Union (SMFCU) was proud to support the Sexual Assault Center at Child and Family Services of Saginaw by participating in a Denim Day on Wednesday, April 27. "Supporting this cause has always been important to the credit union because Child and Family Services can provide free services to victims and families in our community," said Laura Crase, SMFCU CEO. "The credit union takes pride in creating awareness of the Sexual Assault Center and all the services they provide."

SMFCU employees donated a minimum of $5 to wear jeans on Denim Day. Wearing jeans on this day during April's National Sexual Assault Awareness Month has become an international symbol of protest against wrong thinking and destructive attitudes about sexual assault. Proceeds benefit the Sexual Assault Center at Child & Family Services.

"Decreasing sexual violence in our community starts with one person bringing awareness and being willing to take a stand," said Annie Coker, Sexual Assault Director at Child and Family Services. "The Sexual Assault Center is very grateful for yet another year of support from not just an individual but a whole organization of individuals from SMFCU. It's amazing to see so many organizations in our community joining together to take a stand against sexual violence through supporting our Denim Day. The proceeds help survivors receive crisis services, counseling services and legal advocacy at no cost," Coker added.



A "U"nique Gallery inside Vibe Credit Union's Royal Oak eCenter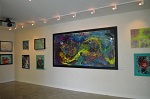 Life changes dramatically with a traumatic brain injury, but imagine that trauma uncovering a previously hidden artistic talent. This is what you can see at the art gallery inside Vibe Credit Union's Royal Oak eCenter, at the corner of Main and 5th St. Featuring pieces from Gallery U Boutique, a vocational training site for people with traumatic brain injuries, it's a gallery as special as the artists themselves.
Visit the Art Gallery M-F 10-6 and Sat. 10-2.
Catholic Federal Credit Union Receives 2016 Healthy Workplace Award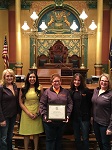 Catholic Federal Credit Union has been awarded a 2016 Healthy Workplace Award for their commitment to healthy living by the Governor's Council on Physical Fitness, Health and Sports and the Michigan Fitness Foundation.
Each year, Michigan worksites, take the extra steps needed to create a healthier workplace thereby making their employees healthy, fit and more productive. To honor that commitment, this award recognizes organizations with outstanding programs and helps to create best practices for organizations throughout Michigan to replicate.
"The staff at Catholic Federal is delighted to have been recognized for this award for the third year," stated Bridget Staffileno, vice president of community development. "I am so proud to work for a company that enthusiastically supports participation."
MSGCU Makes Donation to Chesterfield Fire Department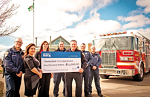 In April, members of the Chesterfield team visited the Chesterfield Fire Department to make a donation to its community safety programs.
"The Fire Department saves lives in so many ways," said Branch Manager Theresa Cleveland. "In addition to responding to fire and water rescues, they also provide a great service to the community by teaching children the importance of safety."
The Chesterfield branch will also assist the Fire Department when it hosts annual Child Safety Day on May 14.
New Director of Consumer Lending Named at Dow Chemical Employees' Credit Union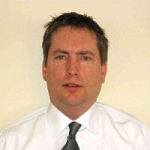 Dow Chemical Employees' Credit Union is pleased to welcome John Costello as the credit union's new director of consumer lending. Costello last served as a Senior Consultant at Newbold Advisors, located in South Bend, Indiana where he worked with several large financial institutions to identify and implement improvement process opportunities in default servicing and loan processes.
Prior to his time at Newbold, he held the title of Managing Director of the mortgage capital division at Lehman Brothers where he established a centralized mortgage originations platform in South Korea. He then served as their COO and was in charge of the complete operational function of the private student loan origination business. He also served as Managing Director at CitiFinancial for the consumer finance operations in Spain where he led over 600 employees in Citigroup's consumer finance operations, which included real estate, personal loans and retail sales finance.
Costello holds a B.S. in Accounting from Indiana University and will be relocating to the Midland area with his family to join the DCECU team.
LAFCU Donates $1,000 to Lansing Eastern High School Band Program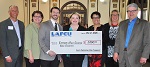 LAFCU helped Lansing Eastern High School end the year on a high note. The mid-Michigan credit union donated $1,000 to the school's band program.
Attendees of a small ceremony at the school were treated to a brief but robust concert by the 9-12 grade band following the ceremonial check presentation. The donation is part of LAFCU's music sponsorship of the Lansing Regional Chamber of Commerce's annual dinner.
"We could just send the donation check, but this is a wonderful opportunity for us to express our support to the students," said Ellsworth Etchison. "This donation is an excellent example of one of the ways LAFCU fulfills its mission of 'people helping people.' It's about being part of the solution to improve the lives of those in the communities in which we serve."
Advantage One FCU Awards Three Academic Scholarships
Advantage One Federal Credit Union presented three local area students with academic scholarships. Leah Milete, who attends Oscar Carlson High School in Gibraltar, Erin Fish, from Allen Park High School and Rebecca Kerr of Wayne State University were this year's recipients.
Each student received a $1,500 scholarship. Recipients were selected based on an essay competition with consideration given to their academic accomplishments and participation in both school and community activities.
Go to main navigation