BSA, Embezzlement and Setting Policies Top Topics at Board Training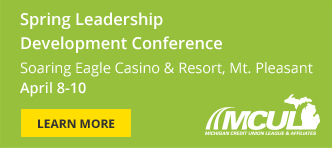 The visionary, current trends, board insights and hot topic sessions offered to volunteers and CEOs at the Spring Leadership Development Conference are proving very popular, with registration quickly spiking for the event, being held Apr. 8-10. This year the conference returns to the Soaring Eagle Casino and Resort, in Mount Pleasant.
Breakout topics such as a two-part workshop "A New and Improved Board: Effective Leadership", "Bank Secrecy Act for Board Members" and an optional bonus session on "Embezzlement: What it Means to Board Members" are drawing many attendees to the conference.
CUSG is offering a new pre-event workshop with separate registration on Apr. 8. "Springboard: Helping New and Future Board Members Dive In" is designed to keep board members aware of their fundamental roles as a volunteer, and is an ideal refresher for seasoned directors, too! Topics presented include CAMELS rating system, financial statements and more. The 1/2-day pre-event workshop is $199 per person and includes a light lunch buffet.
Registration for the Spring Leadership Development Conference is $399 per person for the first four attendees; five or more are $350 per person. Guests are welcome to join attendees and meal tickets are available.
Go to main navigation