Support the Lapel Pin Campaign Program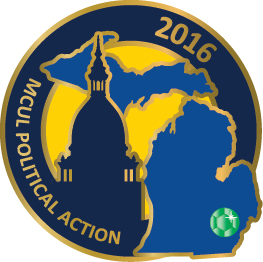 With statewide elections coming up this year the importance of a strong state PAC in 2016 is crucial to the credit union industry. Starting a lapel pin campaign is a great way to help raise awareness and funds to help support credit union friendly candidates.
Lapel pins are available at contribution levels of $30 (Capitol Club), $60 (House of Representatives Club), $125 (Senate Club), $250 (Governor's Club), $500 (Chairman's Club), $1,000 (Michigan Club), and $1,500 (CU Champion Club). We also have three U.P. Lapel Pins, $30 (U.P. Bronze Club), $60 (U.P. Silver Club) and $125 (U.P. Gold Club).

Find payroll deduction and one-time contributions forms along with more information about the Lapel Pin program here. Questions regarding the lapel pin program or any other fundraising activity may be directed to MCUL Political Affairs Coordinator Haleigh Krombeen at (800) 262-6285, ext. 459.
Go to main navigation