CU Lunch Local is just around the corner!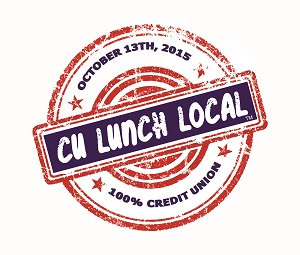 CU Lunch Local is right around the corner and what better time to promote all of the good things credit unions are doing to help local businesses. Credit unions and organizations affiliated with credit unions can show support for local businesses by participating in a nationwide cash mob on Oct. 13 during International Credit Union Week.
Pick your destination and then pick one or more local lunch spots for your team to support on Oct. 13. Contact your chosen merchant and let the business know it was selected as your CU Lunch Local spot.
After you have picked your destination, get your team involved by contributing a predetermined amount. Help pick up the tab by choosing to reimburse your team members $5-$10 towards their lunch. Start snapping photos of you and your team enjoying your lunch out. Encourage team members to post pictures to their social media accounts as well as posting pictures to the company website, Facebook or Twitter. Make sure to use the hashtag #CULunchLocal.
For more information contact Jessica Richardson-Isenegger. Don't forget to like the official CU Lunch Local Facebook page, and sign-up for the event by clicking here.
Go to main navigation