Budd Hall, Manager of Former Dow Ludington Employees CU, Dies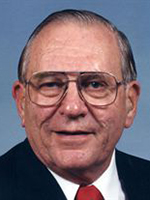 Hall
Herbert "Budd" Hall, former manager of what is now Safe Harbor CU in Ludington and former chairman of the MCUL & Affiliates board, died Tuesday, March 24. He was 94.
Hall, who lived in Scottville, was a decorated World War II veteran, former Amber Township supervisor, Mason County Central school board member and chairman of the Mason County Building Authority, according to his obituary at Wyman Funeral Service. His death was reported on the front page of the Ludington Daily News.
Hall worked for Dow Ludington Employees CU from 1974-86 and joined the supervisory committee after retiring. He served on the MCUL board from 1980-90 and was chairman 1987-89. He was also a delegate to the CUNA board from 1986-93.
Hall participated in 32 bombing raids over Nazi-occupied Europe as a tail gunner on a B-24 Liberator in the U.S. Army Air Corp. In 2001, he was presented, on behalf of the government of France, the "Normandy Medal of the Jubilee of Liberty" for his participation in D-Day, Operation Overlord and the Normandy Invasion during a ceremony held at the Ludington VFW Hall, with U.S. Rep. Peter Hoekstra presenting.
He married Anne E. (Hamilton) Hall in 1942 before enlisting in the Army. Anne Hall preceded him in death in 1996.
He was remarried to Doris (Erickson) Hall, former CEO of Filer CU in Manistee, who survives.
Funeral services were March 28, at Scottville United Methodist Church with the Rev. Jack Conklin officiating. Those who wish to make memorial contributions are asked to consider the Scottville United Methodist Church or the Scottville Senior Center.
Go to main navigation