MCUL Congratulates Bloom CEO Dan Baines on 40 Years of Credit Union Service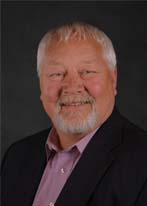 In Summer 2021, Dan Baines, President/Chief Executive Officer of Bloom Credit Union, will be retiring from the credit union following a career that spans more than four decades with the credit union (which was named Multi-Products Credit Union when he started).
During this time, Baines has served as a board member of the Michigan Credit Union League (MCUL) for over 14 years, with four combined years as Secretary/Treasurer and Vice Chairman of the Board, as well as four years on the MCUL Audit and Process Committee. Dan has also been involved with the Grand River Chapter of Credit Unions for nearly three decades, including service as the chapter's director.
He led Bloom through the change from its auto industry-based beginnings to a community chartered credit union (then called My Personal Credit Union) in October 2005, before it was rebranded to Bloom Credit Union in August 2019.
In 2019, the credit union more clearly defined its mission around helping people thrive financially, specifically focusing on lowering members' loan payments and growing their credit scores.
Over the years, Baines has worked to expand the credit union's range of services to meet the evolving financial needs of members. Bloom has expanded from one to five branches and introduced a whole range of services, including everything from investment planning services and a versatile mobile app to business loans and mortgage services.
"Dan's leadership and dedication to serving our membership has been a driving force behind the success of the credit union for the past 40 years. He will be greatly missed; however, we wish him well in his future endeavors," said Bloom CFO Joe Heintskill.
Board Chair of Bloom, Roxanne Speck, echoed that sentiment, telling MCUL that in order to adapt the credit union to its membership, Baines helped employees, management team and board of volunteers see changes as opportunities to grow and support members in new and exciting ways.
He also worked tirelessly to raise donations for many charities throughout his career, including: Children's Miracle Network Hospitals, Kids Food Basket, Lori's Voice, Catherine's Care and Safe Haven.
"I've been blessed to work with Dan in various capacities over the past 23 years," said MCUL CEO Dave Adams. "He is one of the most unassuming and principled leaders I have ever worked with. His involvement and commitment with the chapter and with the League have been outstanding and I will miss his calm, watchful, but supportive leadership. Many lives have been made better thanks to Dan's authentic cooperative leadership style."
"Dan has guided our credit union through economic booms and challenging recessions, name changes and now even a pandemic, always thinking about what is best for both our members and the credit union. After nearly 40 years, he's leaving us in a great position, and we wish him well in his retirement adventure," said Bloom Marketing Director Joe Beckwith.
The Bloom Credit Union family wishes Dan a long, healthy, and well-deserved retirement. If you would like to send Dan your thoughts for his retirement or inquire about the CEO position, email Board Chair Roxanne Speck at bloomceosearch@gmail.com.
Go to main navigation