Michigan Credit Union Community Mourns the Passing of Former Leader Andy List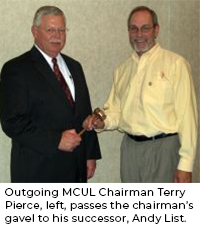 The Michigan credit union community mourns the recent passing of former MCUL Chairman Andy List. He was the former CEO of Grand Rapids-based Adventure Credit Union (known as Option 1 Credit Union and Bellcom Credit Union during his tenure), and was elected as the League's 32nd Chairman in 2008. List passed away on March 6 at the age of 69.

After graduating from Concordia College, List taught for two years in Louisiana before returning home to Michigan where he would begin a long a successful career in the financial industry. He worked for Mutual Savings and Loan before taking his first CEO position with South West State Employees Credit Union in Kalamazoo. From there, his career path brought him to Grand Rapids, where he took over the CEO position at Bellcom Credit Union.

After 23 years of hard work and dedication, List retired in 2015. He was considered a great leader during his service as a credit union and chapter leader, as well as serving for many years on the MCUL and CUcorp boards, including his two-year term as MCUL Chairman.

"He led the League through many challenging times and I counted him as a trusted advisor and mentor," said MCUL President/CEO Dave Adams. "As is the case so often with our credit union colleagues, I also cherished Andy and his wife Sheila's friendship. Andy was devoted to his family and his work and leaves behind so many friends in our credit union industry."

List was married to Sheila (McCoon) List on May 14, 1977. They shared two children and one granddaughter. In his retirement, List enjoyed spending time at the lake house. His hobbies included bird watching, boating, spending time with family and the occasional golf outing with friends.

List is survived by his wife Sheila of 42 years, children Ariana (Tyler) Flory, Marissa List, granddaughter Bria Marie, brothers Bob (Pat) and Mike List and sister Nancy (Kenneth) Stringer, as well as many nieces and nephews.

A celebration of life is scheduled for May 16. Please email CelebrationofLifeAList@gmail.com for details.
Go to main navigation