AC&E 2019: MCUL & MCUF Award Winners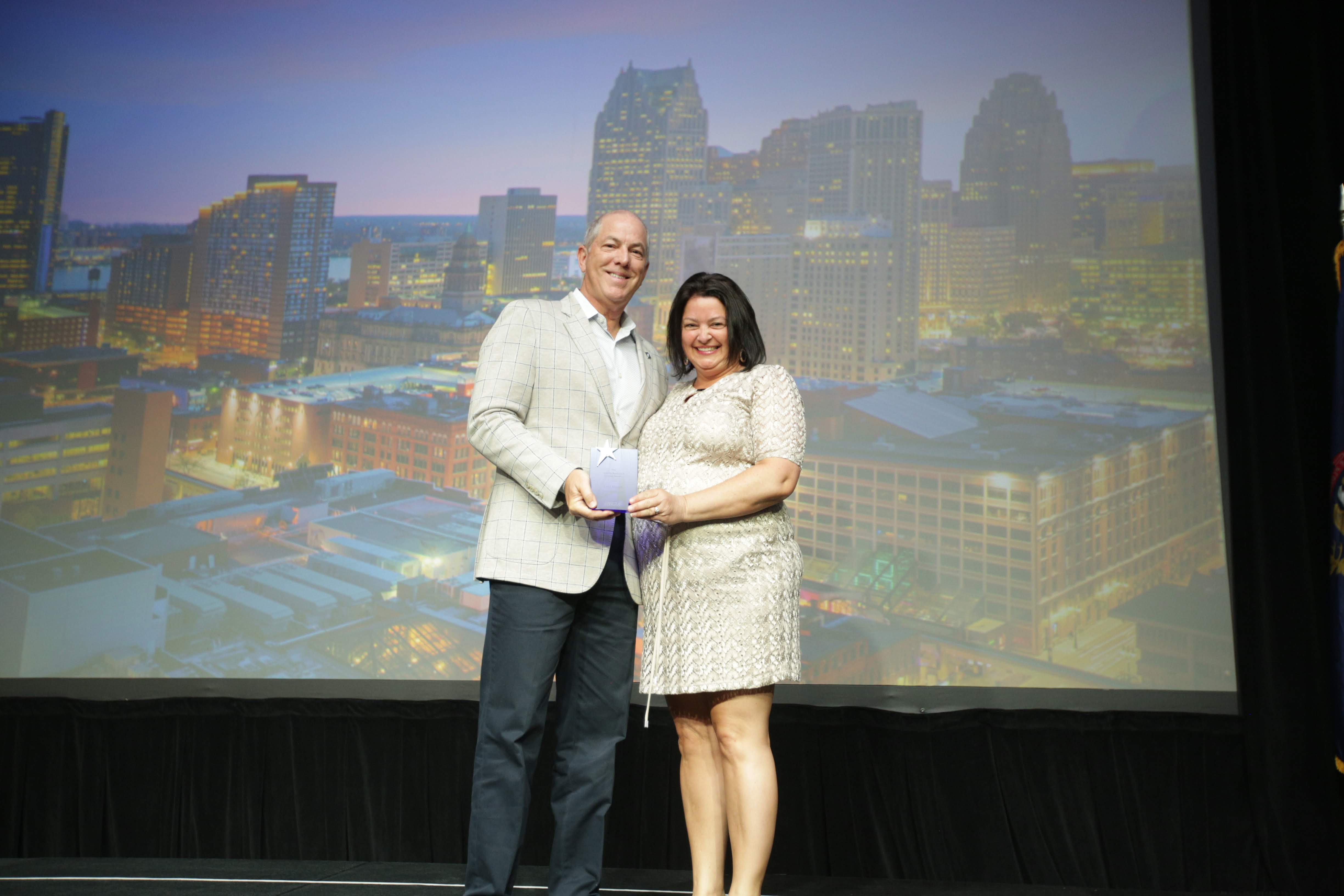 MCUF Award for Excellence in Consumer Education: Lori Hawk
As the credit solutions manager at ELGA Credit Union, Lori Hawk strives to make the world a better place one person at a time. In addition to helping members save their homes during the recession, she has developed workshops teaching financial education to her community.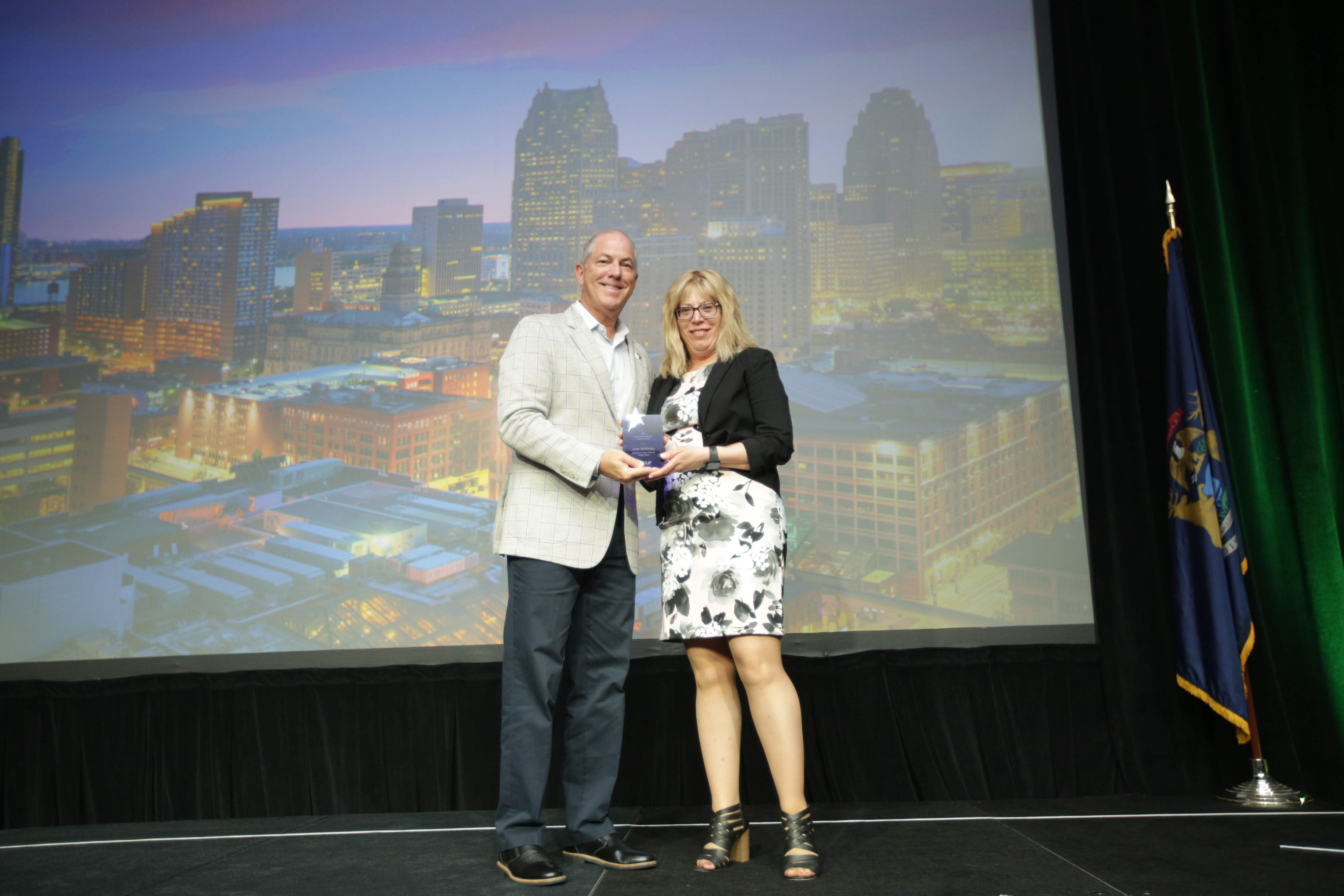 MCUF Credit Union Community Award: Judy McKinley
As the Gaylord Branch Manager for Northland Area Federal Credit Union, Judy McKinley has been the lead advocate to team up with Goodwill of Northern Michigan and the Patriot Place Veterans Transitional Housing Community for homeless vets. She has logged more than 92 hours of volunteer service just in veteran-related services just in the past year.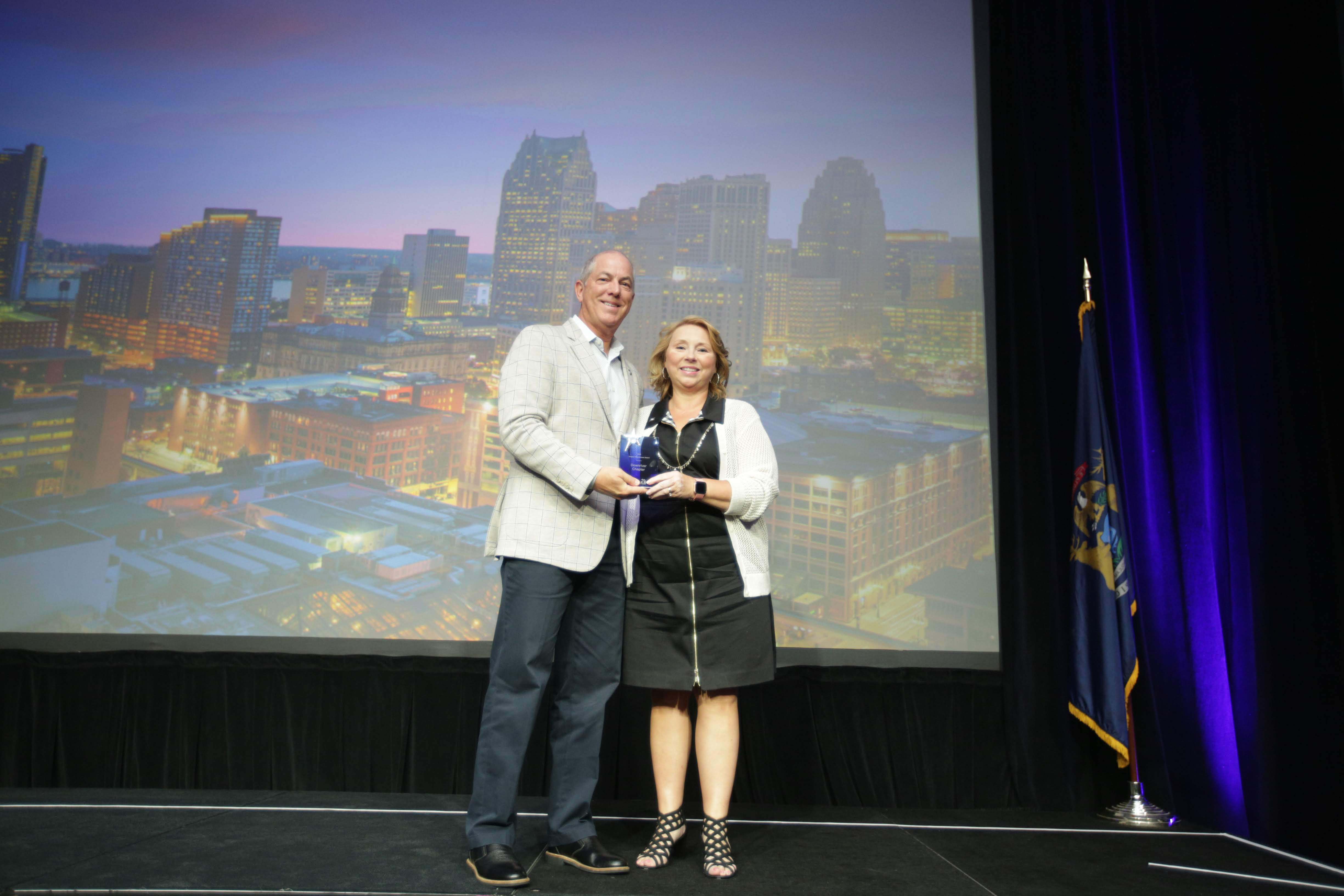 MCUL Chapter Effectiveness Award: Downriver Chapter of Credit Unions
The Downriver Chapter of Credit Unions illustrates the importance of advocacy and teamwork. Comprised of 17 member-owned credit unions and serving 188,000 members, this chapter actively engages all their volunteers and committee members to serve their surrounding communities.
Their achievements over the last year include:
Hosting and facilitating two educational training workshops and a financial reality fair,
Raising more than $9,000 from their 2018 annual golf event, resulting in five grants totaling $7,500 awarded and an increase of 100% over the previous year.
Exceeding all previous years' attendance records for the annual employee appreciation dinner. They welcomed over 250 credit union employees doubling the number of participating credit unions, including those from other chapters
Hosting a legislative breakfast with five legislators and more than 70 attendees

MCUL Innovation Award: LAFCU Incredibles
LAFCU has been pushing the envelope on developing human connections with their members and within their organization. Their employee-led grassroots effort focused on developing an enriched culture focused on to lifting spirits, enhancing company pride and building a network of internal support. From there, the LAFCU Incredibles were born. Much like superheroes, they sprang into action focused on building a positive environment, celebrating optimism and inspiring the spread of appreciation to others throughout the organization. They embrace the mantra, "If you take care of your employees, they will take care of your clients."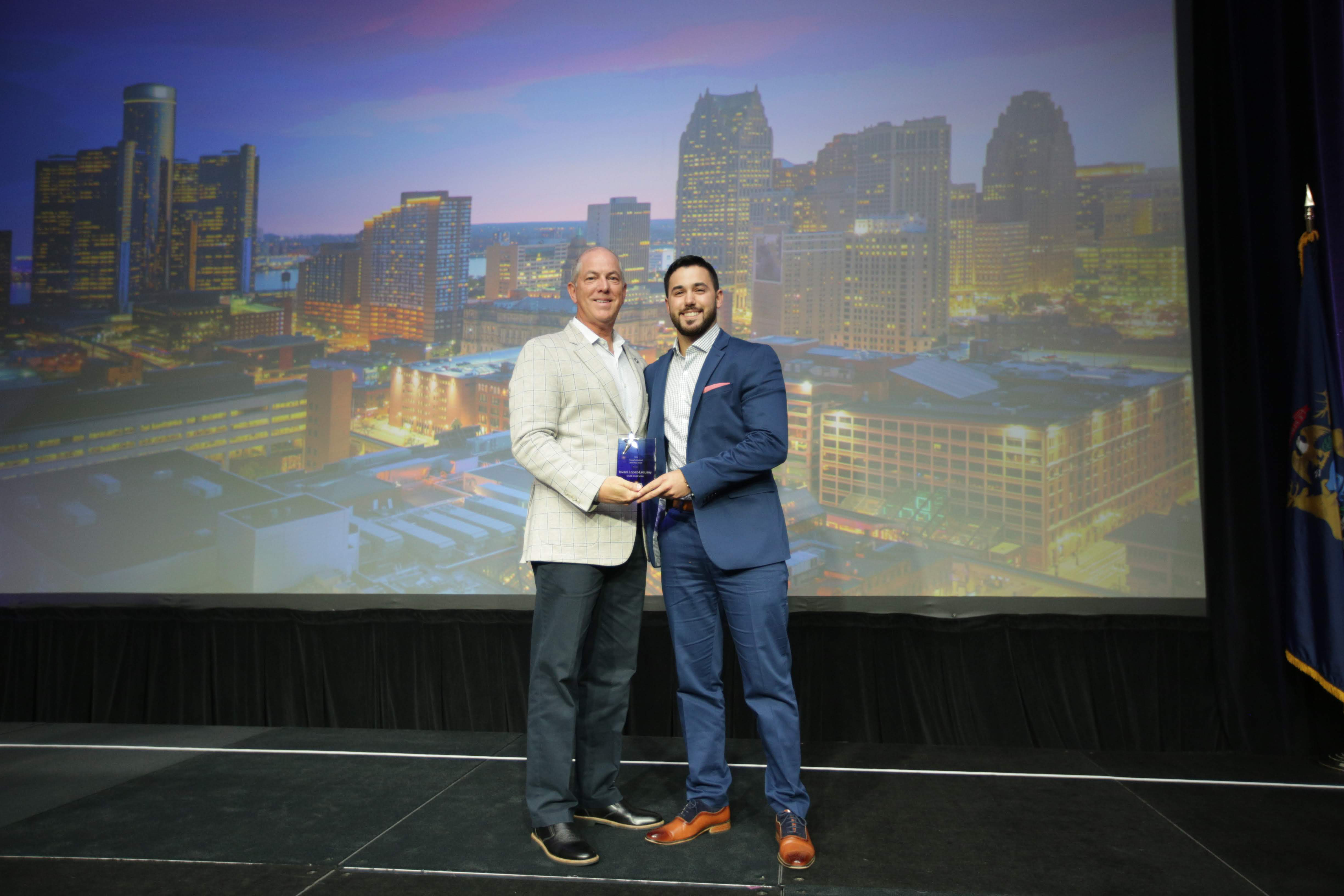 MCUL Young Professional of the Year Award: Iovani Lopez
CASE Branch Manager Iovani Lopez is constantly looking for out-of-the-box ways to develop, motivate and encourage not only his team but the organization as a whole. From the very start, he looked for ways to help his fellow co-workers by taking new hires under his wing, and developing product knowledge guides to help them feel more comfortable speaking to members. Lopez is actively involved in many community service initiatives both inside and outside of the credit union. He is an active participant of CASE's Financial Education Team, visiting schools and community centers to help teach area youth the importance of managing your finances.


MCUL Credit Union Professional of the Year Award: Lisa Gray
As a member of the Dow Chemical Employees' Credit Union team, Lisa Gray is an example of talking the talk and walking the walk when it comes to "people helping people." She cares about the industry, its members and her impact on the world.


MCUL Outstanding Credit Union of the Year Award (Small-Asset Size): Michigan Tech Employees Federal Credit Union & Torch Lake Credit Union
This year we have a joint award for small-asset credit unions of the year. Late last summer, Governor Rick Snyder declared a state of disaster in Menominee and Houghton counties following flash flooding brought on by seven inches of sudden rainfall. Two Upper Peninsula credit unions — Michigan Tech Employees Federal Credit Union and Torch Lake Federal Credit Union — stepped up and took the lead in helping people get back on their feet.


MCUL Outstanding Credit Union of the Year Award (Mid-Asset Size): Marshall Community Credit Union
This year's medium-asset-size outstanding credit union of the year winner is making a difference in the lives of everyone, particularly children. Under the leadership of CEO Heather Luciani, Marshall Community Credit Union has continued to lead in the industry in creativity and charitable initiatives throughout the past year. Their community involvement showcases their dedication to our mission. Marshall Community Credit Union supports several community initiatives including CU Lunch Local, Annual Kids N' Stuff Fundraising Auction, Wattles Park Elementary mini grant program, coat drives, the United Way and many more.


MCUL Outstanding Credit Union of the Year Award (Large-Asset Size): Lake Michigan Credit Union
Community outreach has been a huge part of the culture since their doors opened in 1933. Lake Michigan Credit Union contributes back to the community through volunteerism, philanthropy, sponsorships and other forms of community engagement. Additionally, they are proud to have provided $361,500 in scholarships to 222 deserving students over the years.


Distinguished Service Award: Scott Pauly
Scott Pauly has been a tireless leader. From CEO, to chapter leader, to PAC advocate and CU Link supporter, he is always seeking out new ideas and innovations that makes the credit union better for its members and staff and truly lives by the standard of "people helping people."
He continues to seek innovative ways to increase the chapter's philanthropic giving and is an ever present force behind the scenes. He is a proud example of a solid and effective chapter leader.
Pauly goes over and above what is expected, because that is who he is at his core. He doesn't just go the extra mile, he does it because it's the right thing to do. So much so, the State of Michigan is now surprising him a special tribute for his many years of service. Governor Whitmer, Speaker Chatfield and Senator Schmidt wanted an opportunity to honor Pauly as well.


Distinguished Service Award: Drew Egan
Drew Egan has been an integral part of the MCUL/CUSG landscape for the past 21 years, currently as the special advisor to the president. As a cornerstone the credit union industry, Drew has served as COO/CFO of CU Solutions Group, serving 3,600 credit unions and their 80 million members in 48 states. Prior to coming to Michigan he served as EVP/COO of the Utah League of Credit Unions where he had operational responsibility for the League and Service Corporation serving in this capacity for six years.
Go to main navigation