Lake Trust Credit Union Donates $2,500 Worth of Pajamas to Jamar's Jammies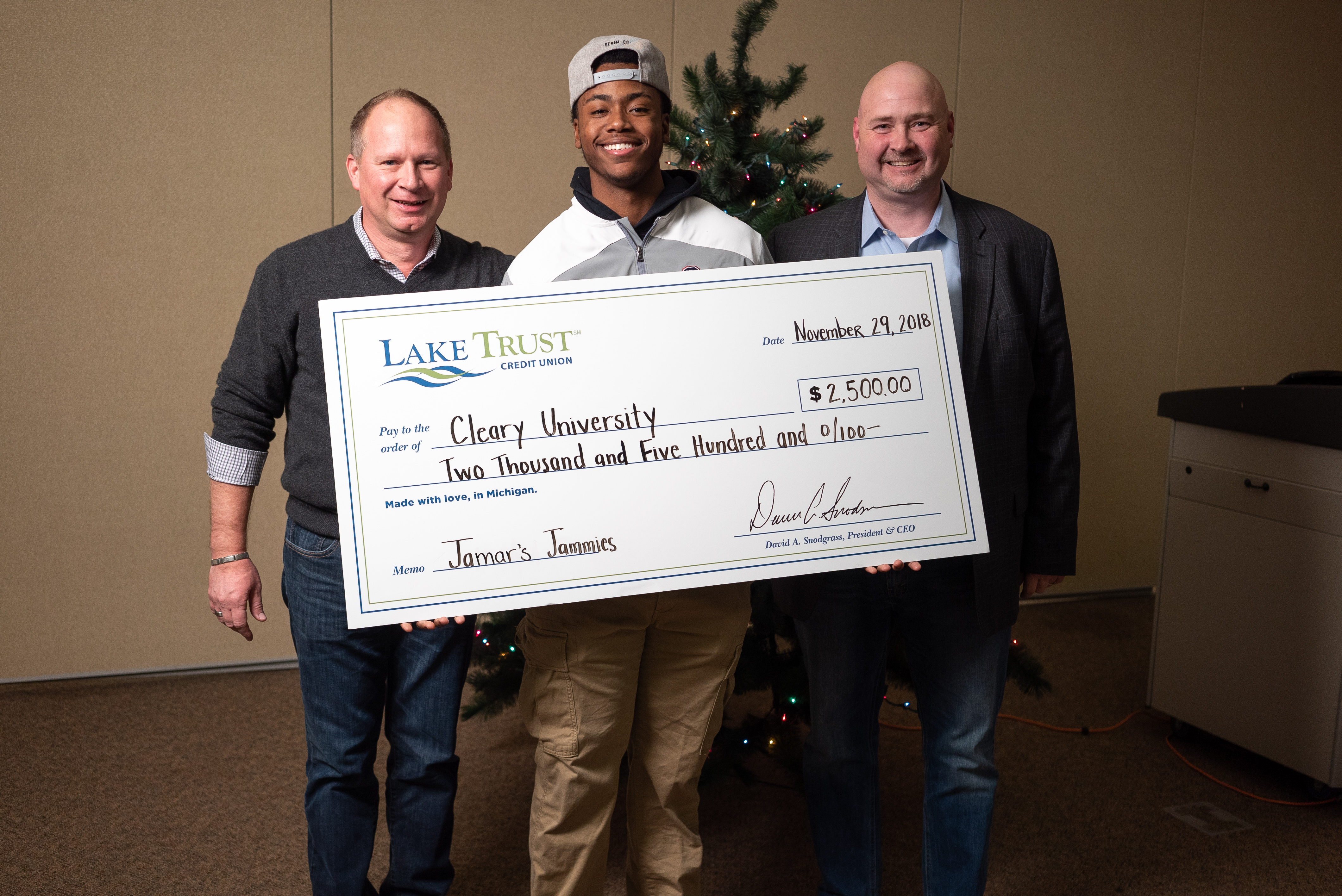 Lake Trust Credit Union recently donated $2,500 worth of pajamas to Jamar's Jammies. Cleary University senior and baseball team member Jamar Bray conceived the unique effort to bring a smile and warmth to children in need this holiday season.
On Nov. 29, Lake Trust presented the donation at Cleary's Howell campus 2018 Holiday Tree Lighting Event, which was also sponsored by the credit union.
"Today, we're celebrating Jamar Bray and his home run, Jamar's Jammies," said David Snodgrass, president and CEO of Lake Trust Credit Union, at the event. "What's impressive in this young man, in addition to the great education he gets at Cleary, is wisdom. Jamar remembers where he comes from. And he remembers others in need. So I think of all the children whose hearts will be touched this holiday because Jamar said, 'I can at least do something so that a child in need has something this year.' He started it all with a thought that he needed to try. Now it's an impressive cause that we're proud to support."
Jamar grew up in a single parent household and recalled his mother's struggles, including the sacrifices she made so he could live life and play baseball. He envisioned Jamar's Jammies as a pajama drive to give back and positively impact families and underprivileged youth in troubled areas during the holiday season.
"We all know what a fine young man Jamar is," said Jason Boyers, president and CEO of Cleary University. "He exemplifies the spirit of Cleary that extends beyond the classroom and baseball field to the community. We also would like to thank our partner Lake Trust Credit Union."
Go to main navigation