Forty-Six CU Professionals Become Certified CU Development Educators
Forty-six credit union professionals became Credit Union Development Educators (CUDEs) after being guided through the intensive Credit Union Development Education (DE) Training from the National Credit Union Foundation by dedicated program facilitators and mentors. The DE training was held Sept. 13–20 at the Lowell Center in Madison, Wisconsin.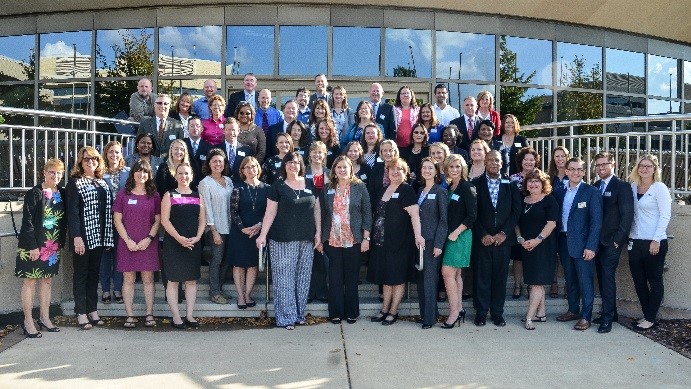 After completing the September DE Training, Aaron Bresko, VP of indirect lending & consumer underwriting at BECU said, "With 29 years in the credit union movement, this program was undoubtedly the best class I have ever attended. It was fun, challenging and opened my eyes to a new world of opportunities. I wish every credit union employee worldwide could have the privilege of having this experience."
Team Projects
DE Training provides critical lessons in cooperative principles, credit union philosophy and international development issues while incorporating challenges credit unions face today. During the recent week-long program, participants were involved in group exercises, field trips, discussions with speakers from around the credit union system and required to complete team projects proposing solutions for credit unions to help alleviate or eliminate challenging situations in any given area. For this training's final case studies, participants worked through and presented solutions to critical issues that included financial stability among young adults and families, credit union board development, building microfinance programs in the Philippines, credit union solutions to predatory lending, the increasing issue of homelessness in America and rejuvenating a stagnant credit union.
Class Graduates
The most recent DE graduating class included credit union movement representatives from across the U.S, as well as a representative from Zimbabwe. The Michigan graduates are Sara Ferguson from Filer Credit Union, Ginny Flanagan from Public Service Credit Union and Tim Merwin from Advia Credit Union.
2018 DE Trainings
The Foundation is holding four DE Trainings next year, all taking place in Madison, Wis. Anyone interested in participating in one of the 2018 DE Trainings can visit ncuf.coop to learn more or they can email cude@ncuf.coop to be put on a notification list for when registration opens up.
Testimonials
"DE Training is a one-of-a-kind development opportunity for anyone in the credit union industry," said Erika Romenesko, LDP Content Manager at CUNA Mutual Group. "Through experiential learning and true teamwork, you will find even more passion and awareness of the differentiating factors credit unions have in your community and the world. I'm forever changed by my experience in DE Training!"
Go to main navigation