Register Today for the MCUL GAC on April 26–27
Registration is open for the MCUL GAC, taking place April 26–27 at the Anderson House Office Building and the Radisson Hotel in Lansing. Be sure to also secure a room at the Radisson Hotel for $139.95 per night, plus tax, the MCUL & Affiliates rate. After April 5, rooms are on a space- and rate-available basis. Refer to the MCUL & Affiliates promotional code MCUL17 when reserving rooms.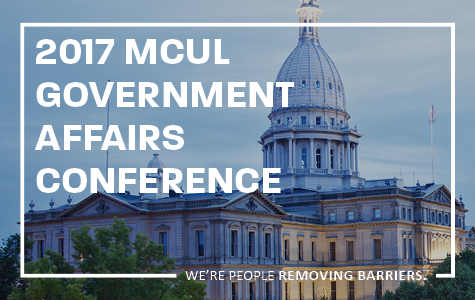 November's election brought a total of 43 new state representatives and senators to Lansing. Credit union leaders understand the importance of building and maintaining a high profile and strong relationship with lawmakers and regulators.
The 2017 agenda will feature several high-profile speakers, legislative leaders and regulatory agency representatives. House Financial Services Committee Chairwoman Diana Farrington, R-Utica, will give attendees a forecast on what's coming up in the industry's key legislative committee.
NCUA and DIFS will participate in a regulator roundtable to discuss agency hot topics. Additionally, Lansing multi-client lobbyist Bill Wortz of Public Affairs Associates will delve into the political inside track. Michigan's favorite capitol correspondent Tim Skubick has been confirmed to moderate a panel of House legislative leaders. CUNA's Ryan Donovan will also be in attendance to speak to credit union leaders on important issues affecting credit unions at the federal level. Check the MCUL GAC website to see the full agenda and access online registration.
Go to main navigation