Catholic Vantage Financial Credit Union Builds Relationships at Scholarship Event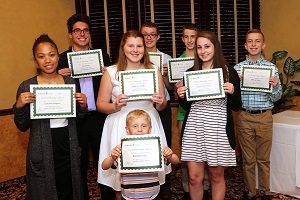 Catholic Vantage Financial Credit Union (CVFCU) recently announced the recipients of the credit union's 2016 student scholarships. Award winners and their families were invited to a special dinner event hosted by the credit union to honor their achievements.
Six scholarships of $500 each were awarded to help cover tuition for students who attend Catholic schools. Receiving the two scholarships awarded to students in kindergarten through eighth grade were Dominick Isele, who will attend kindergarten at St. Edith in Livonia in the fall, and Luke Emerling of St. Valentine in Redford.
"This scholarship really helps my son get started on the right foot with his education," said Erik Isele, father of the youngest recipient, Dominick. "Even though he's only five years old, he understands the importance of this award."
Four scholarships were awarded to students who attend a Catholic high school. They include two students who will attend Divine Child High School-incoming freshman Michael Arble and sophomore Rebecca Damuth. Also receiving awards were incoming freshmen Nathaniel Breitner at Father Gabriel Richard High School and Ethan Hall at University of Detroit Jesuit High School.
"The scholarships that Catholic Vantage Financial offer mean so much for students and Catholic School education," said Barbara Brown, school counselor at Father Gabriel Richard, who attended the recognition event. "We need more of them."
Katie Bridges, northwest regional associate superintendent for Catholic Schools, also attended the dinner event on behalf of the Archdiocese of Detroit and talked about the importance of the families' commitment to Catholic education that will serve the students a lifetime.
Four college scholarships of $1,000 each were also awarded to 2016 graduating high school seniors in Michigan. Winners include Miriam Sponsler of Canton to attend Madonna University, Gabrielle Stephen of Belleville to attend Eastern Michigan University, Eric Swartz of Plymouth to attend Grand Valley State University and Avery Zimmerman of Redford to attend Wayne State University.

"In addition to having the opportunity to honor our scholarship winners and their families at this special recognition dinner, we thanked them for their ongoing support of the credit union," said Emma Teller, CVFCU vice president of marketing and business development. "We want to build relationships with members that last a lifetime."
Go to main navigation