National CU Priorities Shared at State GAC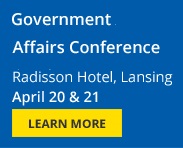 Michigan credit union advocates are headed to Lansing April 20 & 21 for the MCUL & Affiliates Government Affairs Conference. In addition to hearing about statewide issues and meeting local lawmakers, they will also receive an update on federal advocacy priorities.
Ryan Donovan, chief advocacy officer from the Credit Union National Association will discuss "Credit Unions on Capitol Hill" the second day of the event. Straight from Washington, D.C., Donovan will share the latest federal legislative and regulatory initiatives including updates on data breach, regulatory relief and field of membership expansion.
The event also features a "2016 State and Federal Election Forecast" with Bernie Porn, one of Michigan's best political minds and "Inside Track for 2016 and Beyond" with Bill Wortz from Public Affairs Associates.
Every credit union and chapter in the state is encouraged to send a representative to the GAC; click here to see who is already registered. Registration is $149 per person for attendees from credit unions with assets over $50 million and $99 per person for those from smaller credit unions. A one-day registration option is also available. Also, a limited number of scholarships for the event are available for SAS credit unions.
Go to main navigation