CU Advocates Needed in Lansing to Represent Michigan CU Members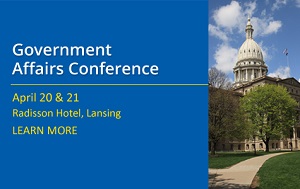 Join credit union leaders from around the state at the MCUL & Affiliates 2016 Government Affairs Conference, April 20-21. Registration is open for the GAC and scholarship assistance is available for SAS credit unions. The event will take place in Lansing at the Anderson House Office Building and the Radisson Hotel in Lansing. The MCUL & Affiliates 2016 GAC Agenda will feature several exciting and informative speakers from both the legislature and regulatory agencies. Presentations such as the Financial Services Forecast, Political Advocacy Panel and the 2016 State and Federal Election Forecast promise to be insightful and entertaining.
MCUL & Affiliates is encouraging all Michigan credit unions to send a representative to Lansing to participate in the conference. All of Michigan's 110 State House seats and 14 U.S. House seats are up for election in 2016, making it a priority for credit union advocates to be up-to-date on current industry issues.

Registration is $149 per person for attendees from credit unions with assets over $50 million; $99 per person for those from assets with $50 million or less. A one-day registration option is also available for $99/$69 per person, respectively by asset size.

Contact Political Affairs Coordinator Haleigh Krombeen at Haleigh.Krombeen@mcul.org if you would like to register. Check the GAC website to find more information.

Go to main navigation