CUs Encouraged to Attend Foundation's "America Saves Twitter" Chat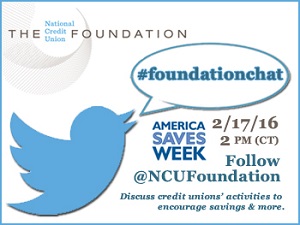 To celebrate America Saves Week 2016, the National Credit Union Foundation (the Foundation) is hosting a Twitter chat for credit unions on Wednesday, Feb. 17th at 2:00pm (CT). The Foundation invites credit unions to discuss their activities encouraging members to save money and build wealth.
"According to a recent study, 71% of Americans are spending less than their income and saving the difference, up from 68% in 2014," said Christopher Morris, Foundation Director of Communications. "This is a huge opportunity for credit unions to help their members improve their financial well-being, which is why the Foundation is pleased to facilitate this discussion."
America Saves Week is Feb. 22-27 and "is an annual opportunity for organizations to promote good savings behavior and a chance for individuals to assess their own saving status." Credit unions and their staff are encouraged to share examples of their best savings practices and asset-building programs and promotions for members. Belvoir Federal Credit Union from Woodbridge, Va. will be featured in the Twitter chat as a special guest.
Here is the list of questions to be asked during the Twitter chat.
Foundation Twitter Chat Details
The Twitter chat is a live streaming conversation, free and open to anyone with a Twitter account. For this Twitter chat, the hashtag will be #foundationchat. Twitter users can either type #foundationchat into the Twitter search box or utilize other tools such as Tweet Chat, etc. to follow the conversation.
Credit union professionals and organizations are invited to follow the Foundation at @NCUFoundation for news and updates. The @NCUFoundation account will be leading the Twitter chat discussion. Questions will be tweeted using a Q1, Q2, etc. format, which can be replied to with a corresponding A1, A2, etc. format. All questions and answers should contain the #foundationchat hashtag.
To see wrap-ups of past Foundation Twitter chats, click here.
Go to main navigation