Latest Issue of Contact Magazine Now Available Online
The newest issue of Contact, the quarterly magazine from the Michigan Credit Union League & Affiliates (MCUL), is now available online.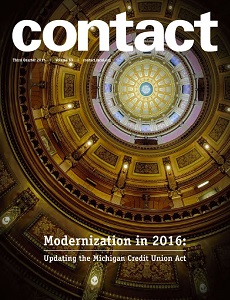 This edition of the magazine is focused on MCUL's regulatory modernization efforts, including the recent push to update the Michigan Credit Union Act for the first time in more than a decade.
The 32-page publication also includes in-depth coverage on credit union business lending, how some CUs are getting younger members involved in governance, a Q&A with DIFS Director Patrick McPharlin, and regular features like CEO and chapter profiles, a Save to Win update and so much more. And if the fall weather's got you down, there's even a look ahead to next summer's exciting Annual Convention & Exposition in Detroit.
To read the latest issue of Contact or browse back issues, click here.
Go to main navigation