Kellogg Community Exceeds Pledge Goal for United Way Donation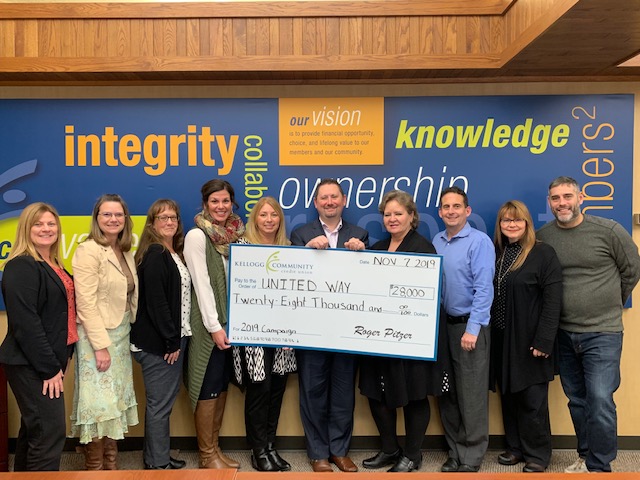 Kellogg Community Credit Union (KCCU) set a goal to pledge $25,000 to the United Way of the Battle Creek and Kalamazoo Region this year and have recently announced they exceeded their expectations. KCCU employees' generous contributions were matched by the KCCU Board of Directors dollar for dollar, which brought the credit union's total contribution to $28,000.
The United Way is a non-profit organization committed to raising resources for families and agencies in need. KCCU's goal of providing financial opportunity and lifelong value to our members and the communities in which they serve directly coincide with United Way's goals to advance the common good by creating better, life-enriching opportunities for those in the same communities.
KCCU also showed their support for the United Way by the following:
Being the exclusive sponsor for the United Way Vehicle Sweepstakes for the past seven years since its inception
Providing their branches as drop-off sites for the United Way's Diaper Drive
Hosting an event at their Team Enrichment Day, where they awarded $1,000 towards supplies for weekend food kits
Volunteering at their Team Enrichment Day to assemble 2,800 First Aid kits, 50 warm blankets, 300 t-shirt bags and 1,000 weekend snack packs to be distributed to those in need
In their effort to create awareness for the United Way of the Battle Creek and Kalamazoo Region, KCCU's CEO, Tracy Miller, along with several staff members made a "Git Up Challenge" video calling out other organizations to support the United Way. Several other credit unions stepped up to the challenge and created videos, and the Michigan Credit Union League donated $1,000 to the United Way as part of the challenge.
"Supporting local charities has always been a priority of KCCU and we value our partnership with the United Way," said Miller. "With so many people and local agencies dealing with economic hardship, we know that the United Way's resources are vital in helping our communities. I'm so proud of our generous team and their commitment to our philosophy of giving back to the communities we serve."
"KCCU sets the standard for bringing compassion, creativity and enthusiasm when partnering with United Way to impact our community," said Chris Sargent, president/CEO of United Way of the Battle Creek and Kalamazoo Region. "From faithfully sponsoring our vehicle sweepstakes for seven straight years, to engaging employees in Pop Up Giving and volunteering, to challenging their peers to partner in raising crucial funds, KCCU is a driving force in our work to transform lives."
Go to main navigation