MSGCU Volunteers for Kids Coalition Against Hunger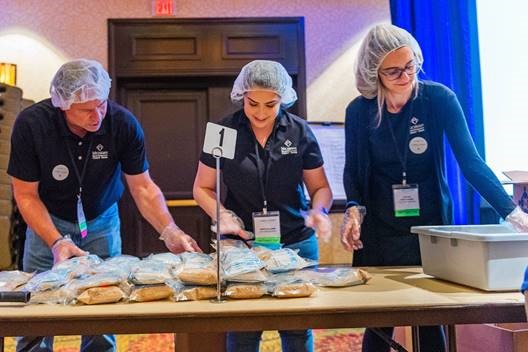 Michigan Schools and Government Credit Union (MSGCU) team members spent time on Indigenous Peoples Day packaging 31,326 meals and donating $7,500 to help make a difference in their community. For the second year, MSGCU volunteered with Kids Coalition Against Hunger, a humanitarian food relief organization whose mission is to both significantly reduce the number of hungry children in the United States and feed starving children throughout the world.

A portion of the meals were delivered to Gleaners Food Bank, a Detroit-based organization dedicated to ending hunger in Southeast Michigan, while others were sent overseas to support foreign food aid efforts or be used for national natural disaster relief efforts.

"Kids Coalition Against Hunger does incredible work providing healthy meals to hungry and starving children around the world," said Pete Gates, MSGCU president/CEO. "As an organization driven by people helping people, MSGCU is honored to once again partner with a local organization and make an impact for those in need."

The credit union has a long history of giving back to organizations that support, educate and safeguard our local communities. MSGCU was founded with public service in mind and donates time and resources to local charities each month.

To learn more about Kids Coalition Against Hunger and to participate in a meal packaging event near you, visit here.
Go to main navigation