In Brief, Feb. 8
Credit Union Collection Consortium's Annual Collector Training School
The Credit Union Collection Consortium is proud to announce its annual Collector Training School to be held May 7, 2019 at the beautiful Michigan State University Management Education Center, located at 811 W. Square Lake Road in Troy.
Renowned national speaker Steve Kreitlow of Credit Union Recovery will be teaching a one-day course on optimizing your credit union's collection activities. For more information, click here.
MCUL & Affiliates 2019 Spring Leadership Development Conference
Information about the MCUL & Affiliates 2019 Spring Leadership Development Conference has been mailed to all Michigan credit union CEOs and hotel rooms are being held at a negotiated rate until April 3. The event takes place April 26-28 at the Soaring Eagle Casino & Resort in Mount Pleasant. Credit union directors interested in earning Certified Credit Union Volunteer certificates will have access to four CUNA Volunteer Achievement Program sessions at the upcoming MCUL & Affiliates Spring Leadership Development Conference. "Directors Liability (V406)," "Understanding the Audit Report (V428)," "Basics of Internal Controls (V427)" and "Strategic Credit Union Leadership (V700)" are all CUNA sessions slated on the agenda.
MCUL & Affiliates Mortgage Loan Originator
Act fast to save a seat at the MCUL & Affiliates Mortgage Loan Originator workshop, being held March 12 at LAFCU in Lansing. The event provides a comprehensive overview of the mortgage lending process and will walk through how to originate a mortgage loan compliant with Federal law in just four easy steps: application, underwriting, closing and servicing. Registration is $299 per person.
Dort Federal Credit Union Donates $11,589.25 to The Old Newsboys of Flint
Dort Federal Credit Union is excited to announce the results of their 2018 Annual Snowman Sales fundraiser benefiting local charities. The 2018 beneficiaries, selected by Dort Federal Credit Union employees, will split proceeds totaling $23,178.50 between the the Old Newsboys of Flint and Ele's Place.
On Jan. 24, Dort Federal Credit Union presented The Old Newsboys of Flint with a check in the amount of $11,589.25. "It is very important for us to have corporate sponsors, such as Dort Federal Credit Union, to help make the Holidays brighter for needy children in our community," said Old Newsboys of Flint Executive Director Chris Hamilton.
Dort Federal Credit Union has contributed to the Annual Snowman Sales campaign through donations received from members throughout the holiday season for over 20 years. Dort Federal's employees and Board of Directors also contributed more than $7,500 to the campaign throughout the year.
Capital Area Humane Society is Recipient of $2,750 Donation from MSUFCU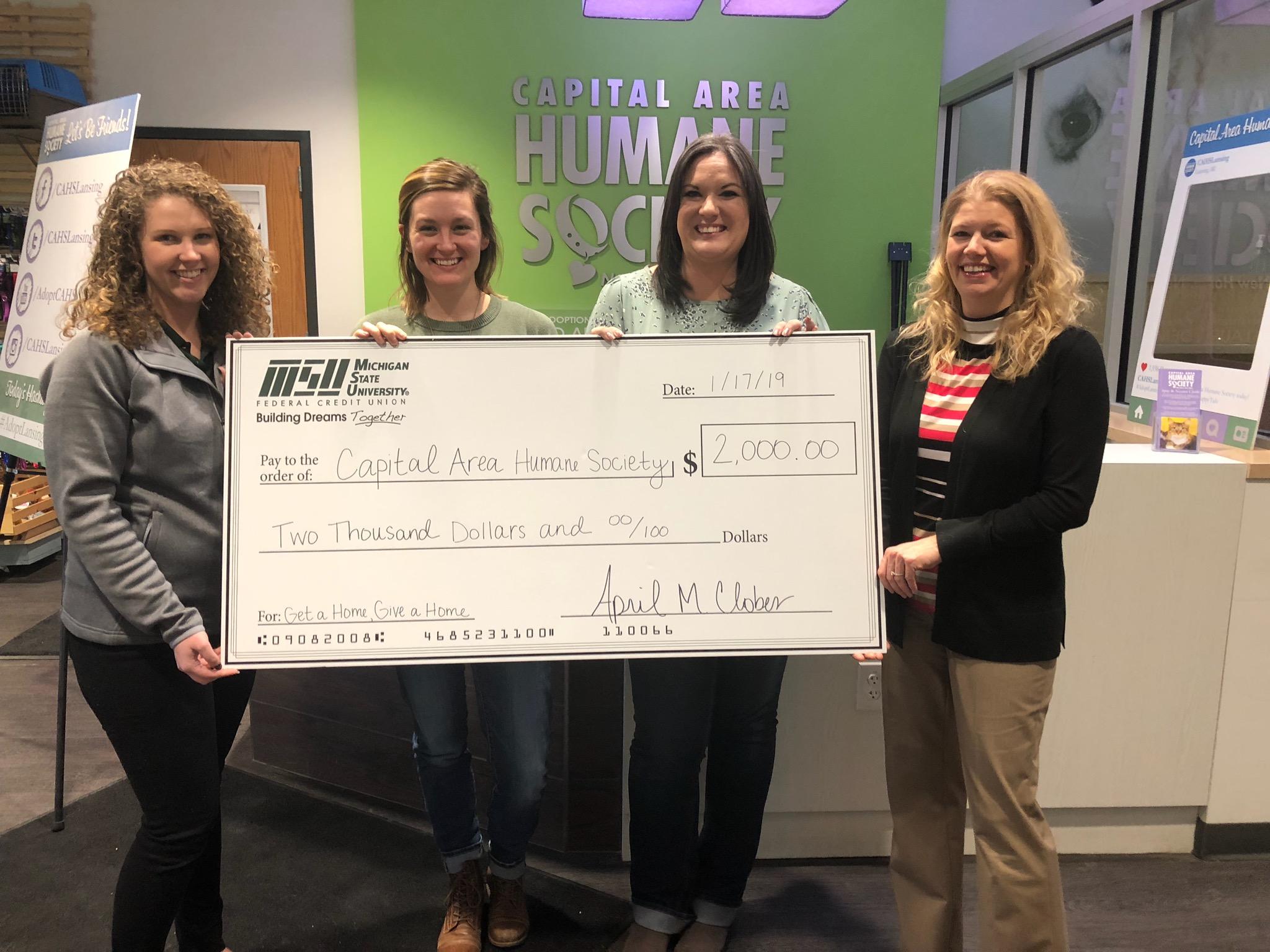 Finding homes for companion animals living at the Capital Area Humane Society (CAHS) is not easy. That's why MSU Federal Credit Union (MSUFCU) decided to help.
In partnership with CAHS, MSUFCU offered a special promotion called Get a Home, Give a Home. Participants who received mortgage financing through MSUFCU could adopt animals in need from CAHS with the credit union covering the adoption fee or making a donation in their name. This resulted in a $2,000 total donation for the organization.
In addition, Credit Union employee, Kieran, recently named MSUFCU's Volunteer of the Year for 2018, was given the opportunity to choose a local charity to receive a $500 donation on behalf of the Credit Union. Kieran selected CAHS, bringing the donation to the organization to $2,500. Finally, a team of MSUFCU employees chose to donate $250 to CAHS, bringing the grand total to a $2,750 donation made to the organization.
"We are pleased to continue our support of the Capital Area Humane Society," MSUFCU Chief Marketing Officer Deidre Davis. "Our partnership with this great organization goes back many years. We embrace the role we play in strengthening our community, and are proud to help our members find homes as well as help some furry friends find homes, too."
CAHS promotes the humane treatment of companion animals through protection, placement, education, and example. In 2018, 3,724 animals were placed in forever homes. For more information about CAHS, visit cahs-lansing.org.
Genisys Credit Union Awards Spirit of Main Street Grant to T. Ramsey & Associates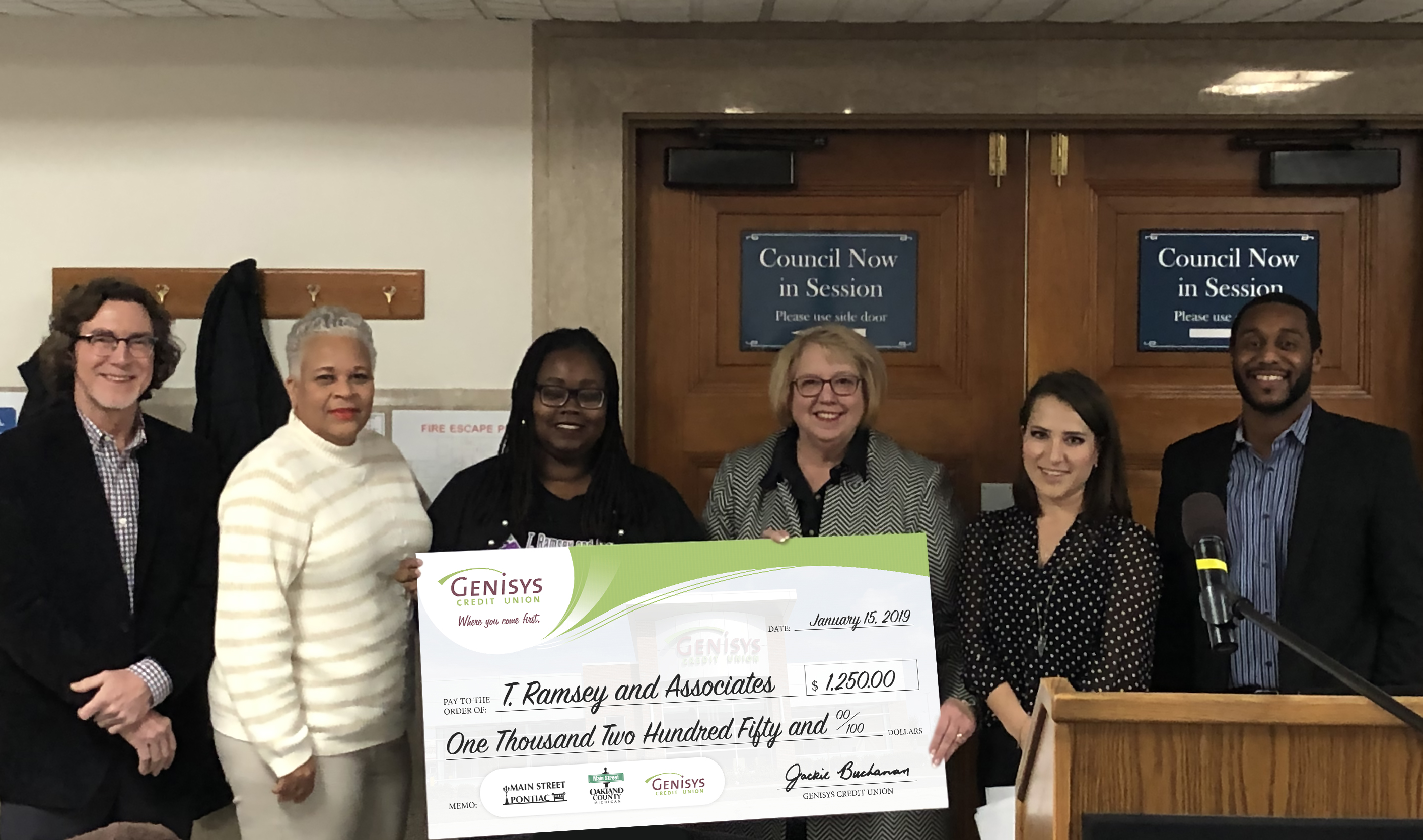 Genisys Credit Union recently presented T. Ramsey and Associates a Spirit of Main Street Micro Business Grant. Genisys has partnered with the Oakland County Main Street Program to provide grants to provide support to newer, small businesses and in turn create stronger downtown communities.
"It is so important to invest in our communities," said Genisys President and CEO Jackie Buchanan. "We are happy to be able to help local businesses and look forward to their continued success."
T. Ramsey and Associates is a consulting firm located in Pontiac that strives to help companies be more effective through strategic planning, training and coaching. They have a strong commitment to the community and believe that helping local businesses succeed will improve the community as a whole. They are the first Pontiac business to be awarded this grant and will use the funds to make upgrades to their office space so they can better serve their clients.
"Main Street Pontiac is incredibly appreciative of Genisys Credit Union for funding the Spirit of Main Street to support growth of local small businesses," said Daniela Walters, president of Main Street Pontiac. "T. Ramsey and Associates is an excellent choice, as not only will the grant funding be used to make their office space more comfortable for their own employees, but also to other local businesses using their services. Thus this micro-grant will have the opportunity to multiply beyond one sole business and out into all of the other businesses who are aided by T. Ramsey and Associates."
Go to main navigation