Beaumont Children's Hospital Patient Inspires Zeal to Expand CMN Outreach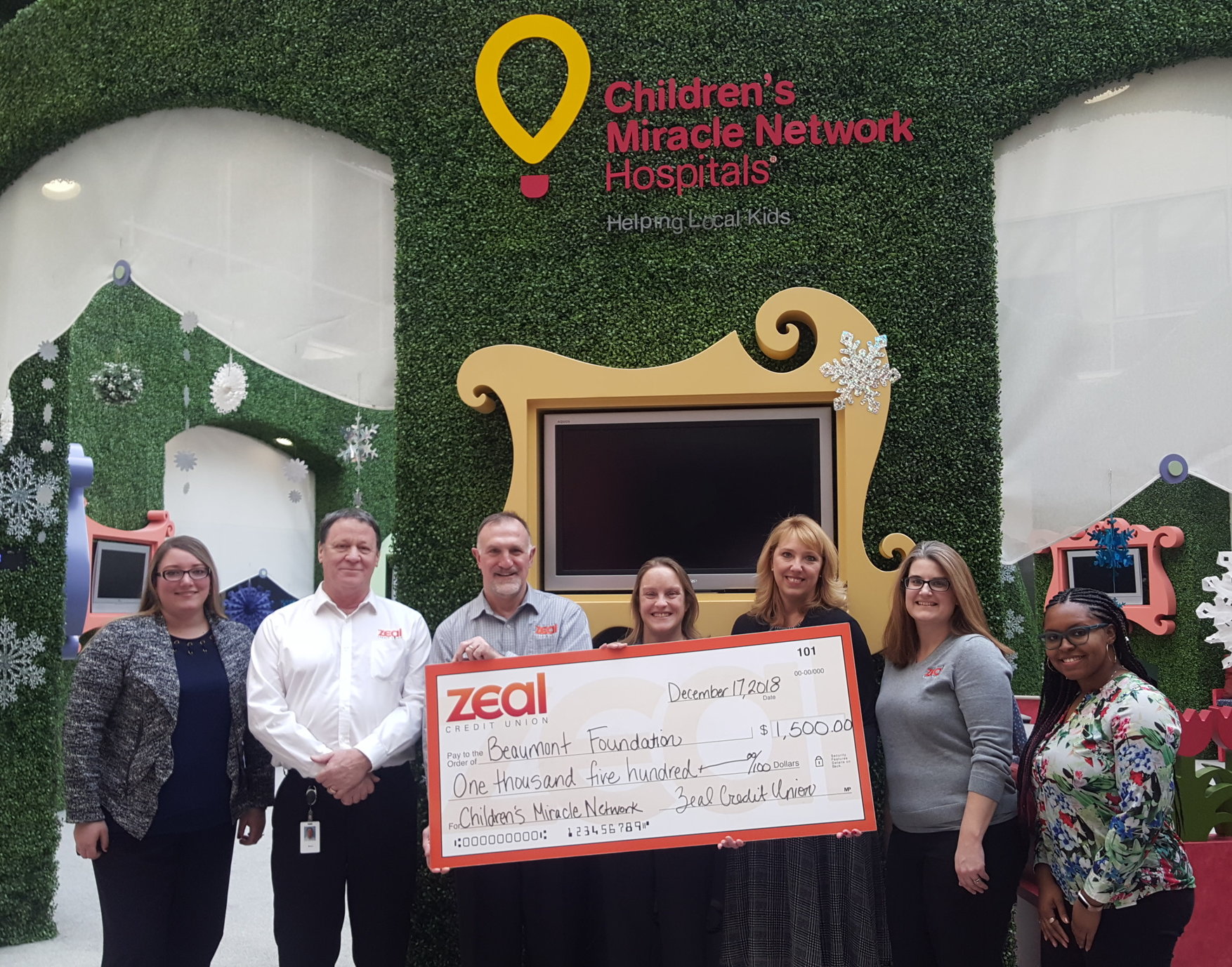 In June 2018, Zeal Credit Union made an auction donation of $500, which was matched by the Michigan Credit Union League (MCUL), for a signed and framed piece of art made by Jonny Hendricks, an 11-year-old boy receiving cancer treatment at Beaumont Children's Hospital to benefit the Children's Miracle Network (CMN).
"I met Jonny at the auction last year, and his strength and positive attitude was inspiring," said Lisa Fawcett, chief marketing officer of Zeal. "Jonny's artwork is displayed in our headquarters and is a daily illustration of our credit union values of passion, empathy and character."
To show the impact Hendricks' story and artwork had on Zeal, staff mobilized to send cards to him, including pictures of the different departments holding his artwork. Staff also wrote individual cards of support to Hendricks, and a gift of drawing items was included in a holiday package sent to him.
In December, the credit union hosted a Jingle Bell Rock party for families at Westland Shopping Center attended by 160 children. In addition to playing holiday-style games, making crafts and enjoying refreshments, children were invited to make handmade cards for patients at Beaumont Children's Hospital in Royal Oak.
For each card made up to 250, Zeal pledged to donate $1 to the Beaumont Foundation for CMN. Westland Shopping Center agreed to match the donation.
As a result, Zeal recently donated a total of $1,500 that included $500 from the Jingle Bell Rock party along with an additional $1,000 from the credit union.
Zeal CEO Tony Carnarvon and additional employees paid a visit to Beaumont Children's Hospital in December to present the check and also received a tour of the hospital.
"Seeing the incredible children's facility and witnessing firsthand what Children's Miracle Network does to help kids made a tremendous impact on all of us," said Carnarvon. "We continue to thank Jonny for how he inspired us."
Tom McGannon, vice president of community engagement, Beaumont Health Foundation, said, "Children's Miracle Network is a nonprofit organization that partners locally with Beaumont Children's to help support pediatric health needs in metropolitan Detroit. We rely on the generosity of organizations like Zeal Credit Union to support Beaumont's many children's programs."
He added, "As the only Children's Miracle Network Hospital in Southeast Michigan, Beaumont Children's relies on Zeal Credit Union's support to provide a variety of programs, from bike safety education helping kids avoid accidents to specialized rehabilitation equipment teaching kids how to walk. Their ongoing support is helping so many children in our community."
Go to main navigation