PFCU CEO Receives Life-Long Business Achievement Award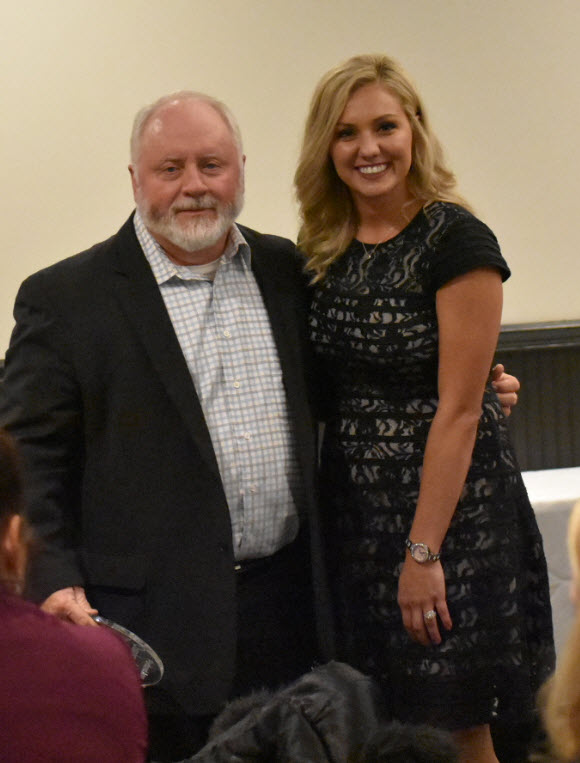 Harvey Hoskins, president and CEO of Portland Federal Credit Union (PFCU), was awarded the Dr. Gerald Brown Life-Long Business Achievement Award from the Portland Area Chamber of Commerce at the PACC Annual Dinner & Awards Ceremony.
The award was established for Dr. Brown, who served the Portland community in many capacities for more than 45 years. To honor his dedication to the people of Portland, the Portland Area Chamber of Commerce presents this award to a recipient who is similarly community- and civic-minded, as well as a leader in the business community.
Hoskins is a true champion for the community serving on the Portland Chamber as Secretary, Vice President and President; on the Portland Athletic Association as Treasurer, Vice President and President and a number of committees at Portland United Methodist Church.
Hoskins has also coached youth baseball, softball, served as the middle school volleyball coach and has worked on the chain gang at Portland High School for more than 40 years. He frequently volunteers for the Portland Community Fund and can often be found supporting various community events.
"I am truly honored to have been considered and selected for this award. I feel incredibly fortunate to live and work in such a tremendous community," said Hoskins.
His passion for the community carries over to his professional career as well. From wrapping coin and working as a teller to handling mortgages and consumer loans, Hoskins has worked just about every corner of the credit union in a career spanning nearly 30 years.
He has seen PFCU grow into a credit union, with assets of 531 million dollars and more than 50,000 members that now services the entire state of Michigan. Credit unions as a whole believe in the philosophy of "People Helping People" and Hoskins has exemplified this concept at work, in the community and at home.
Go to main navigation