Allegan Credit Union Mourns Loss of Longtime Board Member Helen Darby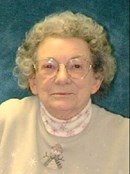 On Dec. 17, Helen Darby, 40-year board member of Allegan Credit Union, passed away at the age of 90.
Darby was born on Oct. 17, 1928 to Wilbur J. and Helen A. (Matusek) Darby. She graduated from Allegan High School in 1946 and worked as secretary to prosecuting attorney Dwight M. Cheever from 1951-1957. Darby then served as probate register for Allegan Country for nearly 20 years and worked in the probate department of the Orton, Tooman, Hale, McKown and Kiel law firm until her retirement in 2007.
"There are not enough words to describe how great Helen Darby was. A women who's moral compass was golden. She was a dedicated servant of God, her family and our credit union," said Kris Lewis, Allegan Credit Union CEO. "She was a kind spirit that had a deep passion for Allegan CU's success. She was instrumental in helping the credit union go through a few leadership changes, mergers, a branch renovation and a few credit union charter expansions."
Darby was a member of the Allegan Credit Union board of directors for 40 years before retiring as board president in 2016. Darby was also active in the Allegan United Methodist Church.
"Helen believed change was good for the industry and saw value in our credit adopting change to stay relevant. Helen bled Allegan and that dedication was evident in the boardroom and in her decision making and judgement," said Lewis. "Our credit union is better today because of Helen Darby. She will be missed, but her legacy will live on in the foundation and hearts she helped build for Allegan CU."
In accordance with her wishes, cremation has taken place. A graveside service will take place on Dec. 26 at Mallory Cemetery at 1:00 p.m., with Rev. Mark Bolyen officiating. Memorial donations may be made to Allegan United Methodist Church.
Go to main navigation