CASE Credit Union Donates More Than $4,600 to SIREN/Eaton Shelter, Inc.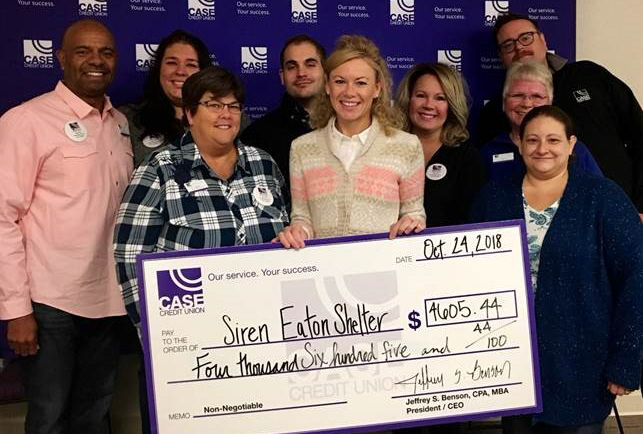 During October's all-staff meeting, CASE Credit Union staff presented a check of $4,605 to Tracy Mulvany, executive director at SIREN/Eaton Shelter, Inc., a local nonprofit organization that helps domestic violence survivors and homeless families in our community.
"We feel very fortunate to have been chosen as one of CASE's charity partners," said Mulvany. "Thanks to CASE's generosity, this money will go to providing safe shelters and basic necessities, such as food and clothing, to help stabilize the survivors and transition them to safe, permanent housing."
Throughout the third quarter, CASE's Community Activity Team organized various fundraising efforts such as Dress Down for Charity Days and 50/50 raffles to give staff the opportunity to raise funds for SIREN/Eaton Shelter.
"We are delighted to partner with an organization that is dedicated to providing resources to those who were affected by homelessness and domestic violence," said Jeffrey Benson, president/CEO of CASE Credit Union. "The positive impact that SIREN/Eaton Shelter has in our community is a step toward revitalizing the lives of those impacted."
Go to main navigation