Shop Lansing Old Town on Nov. 17 to Support Local Schools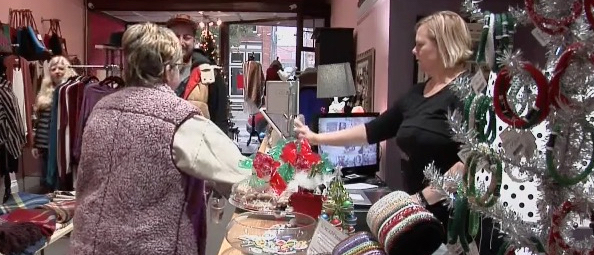 On Nov. 17, shoppers at Lansing's Old Town will be able to designate 17 percent of their purchases to benefit area K-12 schools during the community's second annual "Shop 4 Schools" event.
School foundations and parent-teacher organizations participating in the 2018 event represent Chippewa Middle School in Okemos, the Lansing School District and St. Gerard School and Church of the Resurrection School in Lansing. Until Nov. 5, additional school organizations can register here.
"We are all independently owned businesses and have a vested interest in the success of our community," said Lynn Ross, owner of Mother & Earth Baby Boutique. "The 'Shop 4 Schools' event doubles down on our investment in local schools. Because all of our proceeds stay local, all of our sales increase the local tax base and help fund schools.
"The 17 percent of sales on Nov. 17, the Saturday before Thanksgiving, will be donated directly to school foundations and parent-teacher organizations. This money will help pay for extras that schools typically do not fund, such as supplies, camp fees and scholarships."
Old Town merchants participating in 2018 "Shop 4 Schools" are Absolute Gallery, Capital City Scuba, Cravings Gourmet Popcorn, Curvaceous Lingerie, Grace Boutique of Old Town, Katalyst Gallery & Gift Boutique, Mother & Earth Baby Boutique, October Moon, Old Town General Store, Polka Dots Boutique, Preuss Pets, Retail Therapy, Sir Pizza Grand Café, Sweet Custom Jewelry and Where the Wild Things Bloom.
LAFCU, a Lansing-based statewide credit union, supports the fundraising event by collecting and distributing the donated funds.
Event coordinators hope to raise $4,000 this year, in part due to the positive feedback from last year and increasing awareness of the event. More than $1,300 was raised last year for schools in Lansing, Okemos and Grand Ledge.
For additional information, email Ross or call (517) 721-1868.
Go to main navigation