Employee and Building Updates
Genisys Credit Union Opens New Mortgage Office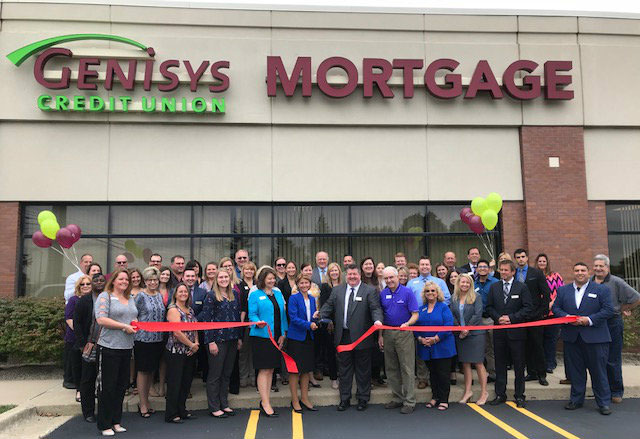 Genisys Credit Union recently held a ribbon-cutting ceremony at their new mortgage office in Auburn Hills. The building was acquired earlier this year and is across the street from the Genisys headquarters building. The new office provides plenty of space for the growing Genisys Mortgage Operations Team and will also be used for meetings and educational seminars.
Jim Fagan has joined the Genisys team as vice president of real estate lending and will lead the future growth of Genisys Credit Union Mortgage. Fagan has had a distinguished career including more than 20 years experience with real estate lending institutions including Bank of America, LaSalle Bank and Standard Federal Bank. He most recently was vice president and director of mortgage lending at Bank of Ann Arbor. Fagan also led mortgage and business development for Digital Risk Lending Solutions of Jacksonville, Florida and Urban Lending Mortgage Solutions in Troy.
"We are excited to add Jim Fagan to our leadership team," said Jackie Buchanan, president and CEO of Genisys Credit Union. "He is exceptionally qualified to help Genisys Credit Union Mortgage become the preferred home lender in the markets we serve."
Honor Credit Union to Open New Branch in Buchanan
Honor Credit Union is excited to announce plans to open a branch location in Buchanan, a community the credit union has supported through various channels for years. The new branch will make it easier for community members and businesses to access their accounts with a convenient location right downtown. Plans for the new branch are currently under design and the Honor team is optimistic that doors will open in early 2019.
"Whether it's been bringing volunteers to Thrill On The Hill, sponsoring floor hockey teams or supporting the Buchanan Area Chamber of Commerce, Buchanan has been a great community partner of Honor's for years," said Honor Credit Union's CEO, Scott McFarland. "We are excited to bring the increased convenience of a local branch to our Buchanan members and look forward to getting to know new friends in this growing community."
Many of Honor Credit Union's team members call Buchanan home, including Karol Behrle, who will be leading the new branch in addition to her current role as Honor's Berrien Springs Branch Manager. More information about Honor Credit Union's newest branch in Buchanan, including how the community can join the Honor family even before doors open, is coming soon.
Go to main navigation