MSUFCU EVP Honored as NAFCU's Professional of the Year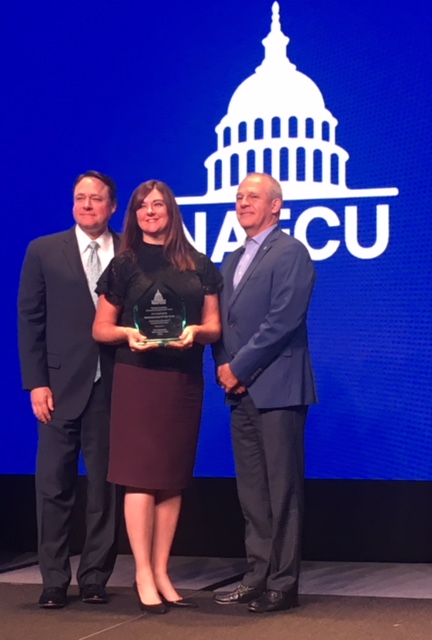 MSU Federal Credit Union (MSUFCU) is pleased to announce that its executive vice president of member services, Lea Ammerman, was awarded the Professional of the Year Award by the National Association of Federally-Insured Credit Unions (NAFCU). Ammerman was recognized at NAFCU's 51st Annual Conference and Solutions Expo on June 20.
"Lea is dedicated to constant improvement, executing strategies and initiatives to benefit our members," said April Clobes, MSUFCU's president/CEO. "She works tirelessly to make a difference in the lives of our members and our employees."
Ammerman leads the member-facing areas of MSUFCU, including 18 branches, the call center, eServices and Specialty Accounts. She has played a crucial role in implementing a modern, open concept layout for branches and saving members more than $50 million in interest since 2013, among other enhancements and innovations to the credit union's member service.
"I am honored to receive NAFCU's Professional of the Year Award," said Ammerman. "My passion for MSUFCU and the credit union philosophy of people helping people is instrumental in every project I lead and every interaction I have with members and employees. It is our mission and my guiding focus to provide superior service to members, and I am grateful to work among such dedicated employees who share that same vision."
Go to main navigation