Chelsea High School Takes First Place in National Personal Finance Challenge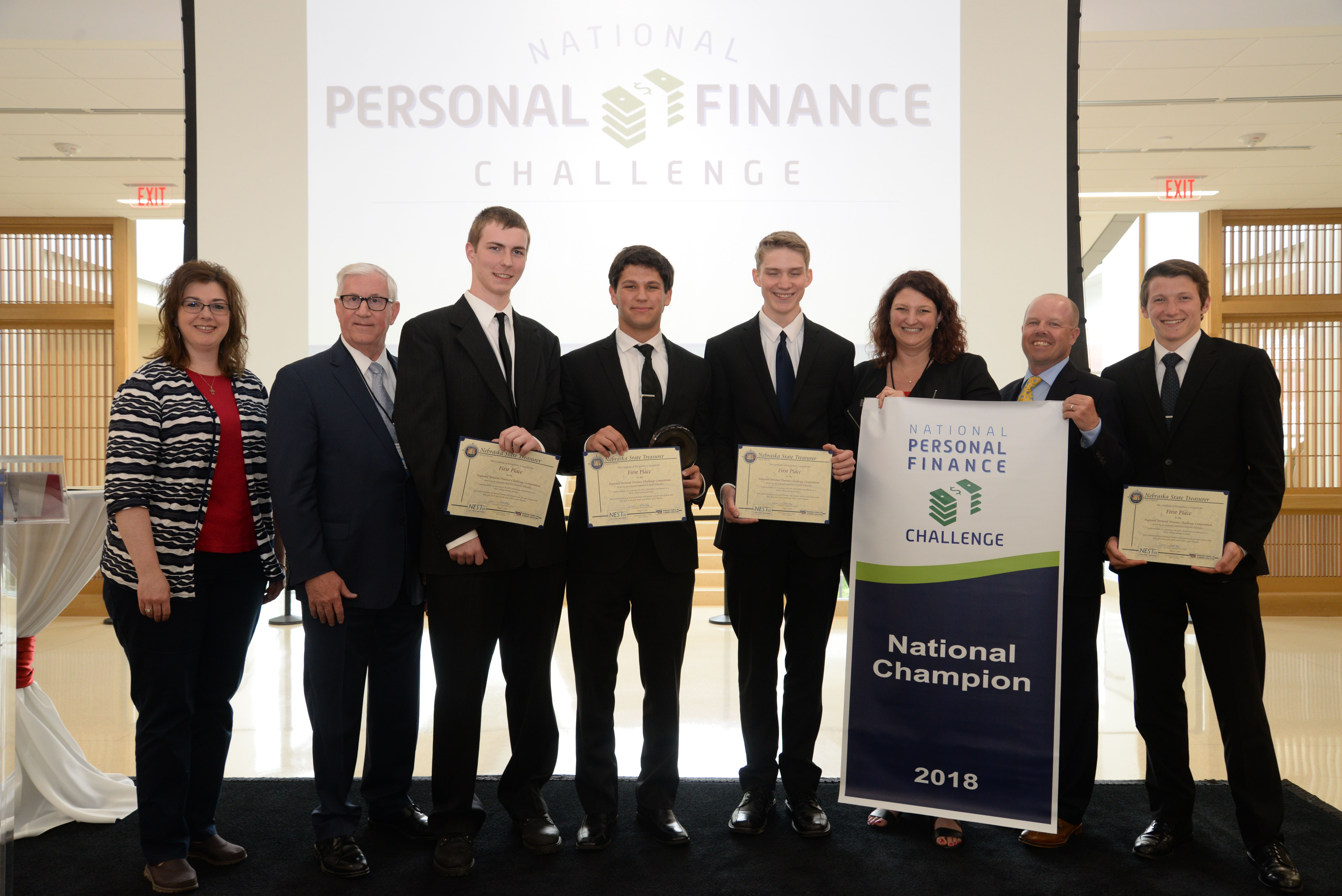 On May 11, the team of four students from Chelsea High School in Chelsea, Mich., took first place in the National Personal Finance Challenge. The challenge, which drew schools from 17 states, was hosted by the Nebraska Council on Economic Education at the University of Nebraska–Lincoln.
Team members were Jeremy Burby, Riley Lukomski, Zachary Barhite and Connor Gilbreath, all seniors. Each team member received a $2,000 college savings account contribution from the Nebraska Educational Savings Trust (NEST). Their teacher, Matt Pedlow, received an Apple iPad tablet, also from NEST.
In an interview after the awards presentation, team members said they were "unbelievably happy" to have placed first, and they attributed their strong showing to their solid research, presentation skills and ability to answer questions from the judges effectively. They said they prepared their PowerPoint presentation with the hypothetical family in mind, choosing their words and recommendations to suit their audience.
Second place went to BASIS Scottsdale of Scottsdale, Arizona, and third place went to Clarinda High School in Clarinda, Iowa.
"I want to congratulate all the students who participated in the national competition and thank them for their hard work, knowledge, creativity and resourcefulness," said Nebraska State Treasurer Don Stenberg. Stenberg is also a trustee of NEST and one of the judges in the competition finals.
"The students were well prepared, and their presentations were thoughtful, detailed and easy to understand," said Stenberg. "I also want to acknowledge the teachers who encouraged their students to enter the competition, helped them prepare and guided them along the way."
Jennifer Davidson, president of the Nebraska Council on Economic Education, said the event was "fantastic," describing the competition as "fierce." This is the eighth year for the event and its first time in Lincoln. Previously, the challenge took place in Kansas City or St. Louis.
The National Association of State Treasurers (NAST) passed a resolution endorsing the National Personal Finance Challenge and encouraging students in their states to enter. "The future of our national economy, our state economies and the economic well-being of constituents in member states depends on a well-informed citizenry that understands basic financial and economic concepts and can navigate in an increasingly complex and diverse financial environment," the resolution said.
Students reached the national competition by placing first in their state competitions, sponsored by their state's Council on Economic Education. In the national event, the students were presented with a hypothetical family financial scenario and given two hours to come up with a resolution to the family's financial situation. In the preliminary round, teams were randomly divided into three groups and presented their findings to judges. The top team in each group then presented to a panel of elite judges in the final round.
Judges for final presentations were Treasurer Stenberg; Dr. Kathy Farrell, Dean of the College of Business; Dr. Nathan Kauffman, assistant vice president and branch executive at the Federal Reserve Bank of Kansas City—Omaha Branch; Kirk Kellner, region bank president of Wells Fargo; Darlene Goins, senior vice president and head of hands-on banking, Wells Fargo, San Francisco; and Richard Baier, president of the Nebraska Bankers Association.
Students from the following schools competed:
Hartselle High School, Hartselle, Alabama
BASIS, Scottsdale, Arizona
Monta Vista High School, Cupertino, California
Dunwoody High School, Dunwoody, Georgia
West Chicago High School, West Chicago, Illinois
Clarinda High School, Clarinda, Iowa
LaPlata High School, LaPlata, Maryland
Chelsea High School, Chelsea, Michigan
Albany High School, Albany, Minnesota
West Lauderdale High School, Collinsville, Mississippi
Hannibal Career & Technical School, Hannibal, Missouri
Hellgate High School, Missoula, Montana
Millard Academy of Entrepreneurship, Millard, Nebraska
Madeira High School, Cincinnati, Ohio
Mustang High School, Mustang, Oklahoma
East Greenwich High School, East Greenwich, Rhode Island
Nansemond River High School, Suffolk, Virginia
Go to main navigation