FreeStar Financial Credit Union Supports American Heart Association
FreeStar Financial Credit Union staff members wore bright red t-shirts during selected dates in February to solicit donations for the American Heart and American Stroke Associations.
So far, FreeStar Financial has raised $1,250 for the cause. Donations from FreeStar Financial and other Metro East Chapter credit unions will be combined and presented as one contribution to the American Heart and American Stroke Associations in April.
According to the Centers for Disease Control and Prevention, about 610,000 people die of heart disease in the United States every year — that's one in every four deaths.
"Credit unions believe strongly in supporting charities and giving back to our community," said Drema Isaac, president and CEO of FreeStar Financial and chairperson of the Metro East Chapter. "Almost everyone has a personal story of someone in their life who has been affected by heart disease, which is why this cause has garnered so much support from so many of our members. We hope that our combined support as a chapter will assist the American Heart Association in their research to find a cure."
Donations for the American Heart Association are accepted at any FreeStar Financial branch location through March.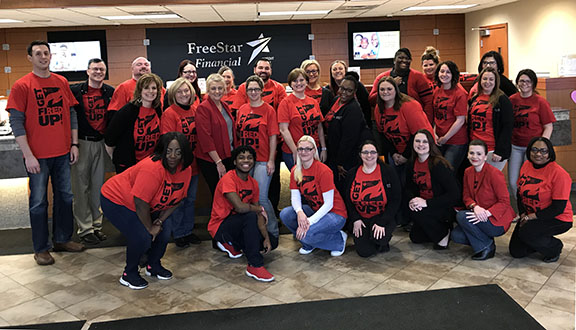 Go to main navigation