The 2018 Personal Finance Challenge Expands Credit Union Awareness and Financial Education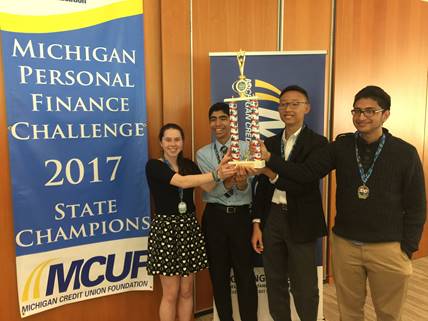 With funding from the Michigan Credit Union Foundation, Michigan credit unions are partnering with the Michigan Council on Economic Education to sponsor the 2018 Michigan Personal Finance Challenge. The initiative provides an opportunity for high school students to advance and demonstrate their knowledge of personal finance by competing with other students across the state and the nation. Registration is now open and students may participate in the online qualifying round any time until March 28. The first 20 teachers to register and have at least 30 students take the online qualification test receive a $50 Amazon gift card.
The top schools from across all eight regions of Michigan, along with 12 at-large teams, will be invited to participate in a case study presentation for the state finals competition at the Federal Reserve Bank of Chicago, Detroit Branch. Students will take on the role of financial planner to analyze a fictitious family scenario and present their recommendations to a panel of judges. The winning student team in Michigan will be awarded a $2,000 Michigan Education Savings Program (MESP) scholarship and an all-expense paid trip to the national finals in May. State finals attendees will put personal finance concepts into action during a Financial Reality Fair conducted by Michigan credit unions.
Credit unions should inform community high school teachers of this opportunity and encourage participation. Full information for the Personal Finance Challenge is available here, including a resource guide to help teachers and credit union educators prepare students for the challenge.
Credit union volunteers are needed to help facilitate the Financial Reality Fair that will be held in conjunction with the state finals on April 23. Please contact Beth Troost for more information.
Go to main navigation