Michigan Credit Unions Continue Historic Growth through Third Quarter of 2017
Keeping consumer confidence near cyclical highs, the U.S. economy grew at a very strong pace in the third quarter of 2017 and the unemployment rate fell to a near-seventeen year low. The strong economy was clear in Michigan credit union operating results with third-quarter 2017 data from the National Credit Union Administration (NCUA) showing robust loan and membership growth.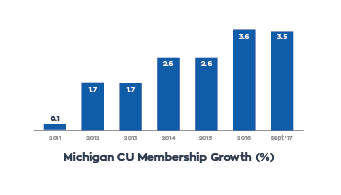 Michigan credit unions report a 1.7 percent increase in total memberships in the third quarter of 2017 – more than doubling the second quarter rate of growth. Memberships increased by 3.5 percent in the year ending September 2017, just shy of the 3.6 percent full-year 2016 advance. Michigan credit unions now report a total of 5.2 million memberships — roughly 52 percent of the state's estimated 9.9 million population.
Additionally, Michigan credit union loan portfolios grew by 4.0 percent in the third quarter — a staggering 16.0 percent annualized pace. This is in line with the 4.1 percent second-quarter gain, but well ahead of the 3.3 percent year-ago result. New auto loans led the way with a three-month, 6.0 percent gain (24 percent annualized). Personal unsecured loans followed, with a 4.8 percent increase and first mortgages were up 4.0 percent in the period.
Annualized trends for Michigan credit unions in the third quarter of 2017 are provided below.
Annualized membership growth (by region):
Alpena: 3.0 percent
Detroit: -2.3 percent
Flint: 4.0 percent
Grand Rapids: 5.2 percent
Lansing: 0.3 percent
Marquette: -0.4 percent
Muskegon: -0.6 percent
Traverse City: 6.0 percent
Annualized loan growth (by loan type):
Member business loans: 7.9 percent
New automobile loans: 18.0 percent
Used automobile loans: 12.3 percent
First mortgages: 11.7 percent
Credit cards: 6.6 percent
Other unsecured loans: 8.7 percent


"As Michigan communities grow, their credit unions are growing with them," said Ken Ross, Michigan Credit Union League President/COO. "If you look behind these statistics, you'll find credit unions providing car loans that allow people to get to work, home loans that put keys in the hands of first-time homeowners, and opportunities for small businesses across the state — these are the real difference credit unions make in people's lives."
With low interest rates, high employment and solid economic growth, Credit Union National Association (CUNA) economists expect strong loan portfolio growth through 2018, even if interest rates tick up a bit.
You can find the entire Q3 2017 report here.
Go to main navigation