Genisys Credit Union Awarded 2017 Communitas Award for Fighting Hunger
Genisys Credit Union has been awarded the 2017 Communitas Award for the Genisys Fights Hunger campaign benefiting Food Bank of Eastern Michigan.
"The meaning of Communitas aligns directly with the credit union philosophy of people helping people." said Jackie Buchanan, Genisys president and CEO. "We are honored to receive this award from an organization that is looking to recognize others that are working to make a difference in their community."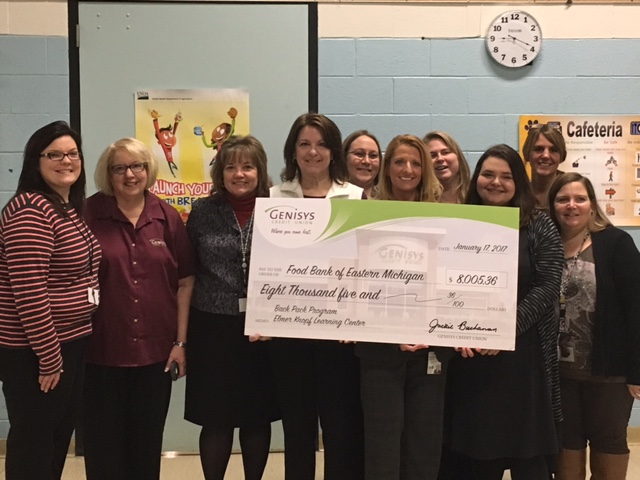 Communitas Awards recognize exceptional businesses, organizations and individuals for excellence in community service and corporate social responsibility.
The Communitas Awards is an international effort to recognize the spirit of communitas, people helping people. Communitas winners unselfishly give of themselves and their resources and are changing the way they do business to benefit their communities.
Communitas winners are recognized for specific programs involving volunteerism, philanthropy or ethical, sustainable business practices. Some businesses, organizations and individuals are also recognized as Leadership winners because of their excellence in multiple programs. A complete list of winners can be found on the Communitas website.
Communitas nominees are evaluated based on the extent and effectiveness of their program. The size and potential scope of the nominee is also taken into consideration. Winners range from a one-person design firm, to an online retailer, to a Fortune 500 business that sponsors community work days for all its employees. Winners are located throughout the world and include such recognizable companies as MasterCard, Honeywell, Dow Chemical, Toyota and Vonage.
Communitas Awards was started in 2010 as an outgrowth of the pro bono recognition program of the Association of Marketing and Communication Professionals (AMCP), a several-thousand-member group that honors creative achievement and fosters partnerships with charities and community organizations. As a part of its mission, AMCP gives grants to community organizations and underwrites a large portion of Communitas expenses.
"By recognizing individuals, organizations and companies for their volunteerism and socially responsible business practices, we are hoping to not only bring attention to great programs, but are working with community minded leaders to make the spirit of communitas an essential element of every business," said Ed Dalheim, executive director of AMCP.
Go to main navigation