Seats are Filling for CU IRA Training in Marquette and Frankenmuth
MCUL will be offering IRA training where attendees will be delving into some basics that provide an ideal refresher and are great new staffers, plus addresses advanced IRA concepts for seasoned professionals.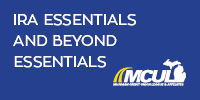 Being offered as a two-day event, participants may choose to attend either of the one-day sessions, or both days. The first day covers IRA Essentials, including "Introduction & Establishing IRAs," "IRA Funding," "IRA Distributions" and "Portability."
The second day training goes Beyond Essentials to discuss "IRA Updates & Required Minimum Distributions," "Beneficiary Options," "Advanced Portability & Roth IRA Conversion Contributions" and "IRA Owner Tax Forms."
Being facilitated by Deb Shipman, CIS, CIP, CISP, a senior IRA training consultant with Ascensus, the workshop first heads to the Hampton Inn Marquette/Waterfront Sept. 27-28. The event then repeats again on Oct. 11-12 at the Bavarian Inn Lodge in Frankenmuth. Registration is $199 per person, per day.
Go to main navigation