In Brief...
Northland and North Central Support Moving Wall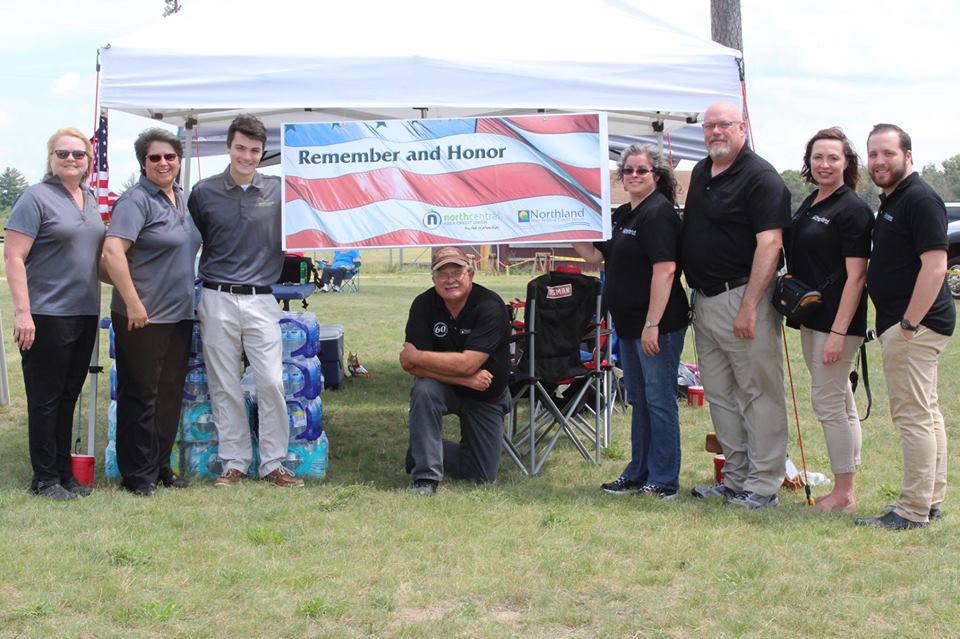 North Central Area CU and Northland Area FCU came together to pay their respects when The Moving Wall recently arrived in Grayling, Michigan. The Moving Wall is a traveling replica of the Vietnam Veterans Memorial located in Washington DC. It bears the names of more than 58,000 soldiers killed in service to our country.
The two credit unions, both strong supporters of veteran causes, were invited to take part in the Opening Ceremony. Tracy Wilson from North Central and Matthew Shaw from Northland formally presented wreaths in tribute to the soldiers who lost their lives in Vietnam. In addition, Northland and North Central jointly donated $500 to the local American Legion to help pay for the event, and CU staff volunteers hosted a free ice water tent for visitors standing out in the sun. This event marks the second time the two CUs paid their respects to combat veterans by jointly supporting a Memorial Wall event in their local community.

MCUL Capitol Day Scheduled for Oct. 17
MCUL will soon be hosting Capitol Day. This event, centered on promoting the League's advocacy efforts and its relationship with lawmakers, is scheduled for Oct. 17 in downtown Lansing.
The event, held every two years, features an issues briefing on current state issues followed by a luncheon with lawmakers and staff. As in the past, this event is FREE to attend and we encourage your participation. Capitol Day is an excellent opportunity for credit union employees to show their support of the MCUL's advocacy efforts by communicating credit union issues to legislative leaders and staff. Leading this year's list of legislative priorities is data breach legislation and payday lending.
More than 100 lawmakers and legislative staffers are expected to participate in this year's Capitol Day Legislative Luncheon. Participants will receive a thorough update and talking points from MCUL staff prior to the luncheon. Please save the date to attend this important MCUL grassroots lobbying event. To register, click here.
For questions about Capitol Day, please contact Political Affairs Coordinator Haleigh Krombeen by email.
Go to main navigation