Frankenmuth in October? Yes! Intentional CU Leadership Returns
Frankenmuth and the surrounding area is known for great shopping, famous chicken dinners, a walk-friendly historic downtown, family fun hotels and waterpark and much more. Now it will be hosting MCUL & Affiliates 2017 Intentional CU Leadership training, the evening of Oct. 17 and a full-day on Oct. 18.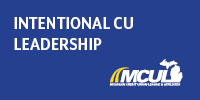 The event takes place in an untraditional learning environment–the Frankenmuth Brewery–where attendees will spend time with speakers Holly Duckworth and Pete Honsberger, who will lead them through the process of transforming their leadership styles. Registrants are encouraged to book accommodations at nearby hotels that are within walking distance and enjoy the change of pace with the short stroll to stretch their legs and clear their heads. Impromptu conversations with peers will be encouraged throughout with group activities and time to grab breakfast on the go with others wanting to step out for some fresh air.
The event is geared for all levels of supervisors, managers and team leaders who want to become more effective in their roles. Registration is $399 per person.
Go to main navigation