Frankenmuth Brewery Provides Backdrop for Intentional CU Leadership
Enjoy fun interactions, great food and quality time developing a personal leadership style, by getting out of the office to focus on learning new skills, building a professional network and becoming a more effective manager or supervisor.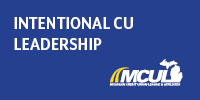 MCUL & Affiliates 2017 Intentional CU Leadership will be making its way to fabulous Frankenmuth, Oct. 17-18 at the Frankenmuth Brewery. Adjacent to several area hotels, attendees will enjoy being able to walk and explore the historic downtown district, shopping and more.
Holly Duckworth, CEO of Leadership Solutions International and author of the award winning book Ctrl+Alt+Believe: Reboot Your Association For Success, along with Pete Honsberger from CultureShoc who specializes in helping teams create highly effective experiences and retreats, will each make 20-minute TED-style presentations. From there, participants will choose who they want to follow into action for "How to be a Buffalo and Charge into the Storm" or "Mindful Leadership and More."
The event kicks-off with a pre-event activity the evening of Tuesday, Oct. 17 and then goes full force throughout Wednesday, Oct. 18. Registration is $399 per person.
Go to main navigation