Frankenmuth Brewery Setting for Intentional CU Leadership
MCUL & Affiliates will host the Intentional CU Leadership workshop on Oct. 18, with a pre-event activity the evening of Oct. 17, all at the Frankenmuth Brewery.
Designed to help credit union professionals to lead with renewed passion, attendees will leave equipped with fresh perspectives, practical tools and an expanded network of professional contacts.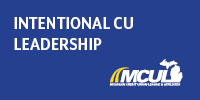 The event features two Ted-style presentations, allowing attendees to then choose which speaker and topic they prefer to follow.
"How to Be a Buffalo and Charge into the Storm," will be the topic offered by Pete Honsberger from CultureShoc. He'll share actionable steps toward adopting, acting and running into storms to lead through them much faster. "Mindful Leadership & More," will be covered by Holly Duckworth, CEO of Leadership Solutions International. She will offer practice for centering as a skill for better decision-making and help attendees find new visions for self-leadership.
Participants will develop a personal leadership style guided by experts, while building on their professional network and returning to the office ready to act and be more dynamic.
Limited rooms are being held at the Frankenmuth Fairfield Inn Marriott and attendees are encouraged to choose any of the many hotels within walking distance of the brewery based on their preference.
Go to main navigation