In Brief...
Alliance Catholic Credit Union Gives Away Thousands in Scholarship Awards
Alliance Catholic Credit Union (ACCU) has selected its annual "Make a Difference" scholarship award winners for 2017. Each scholarship recognizes deserving students or families, from all across Southeast Michigan, who are members of Alliance Catholic Credit Union and have left an indelible mark on their communities. A total of $14,000 was awarded to those that demonstrated passion, aspiration and service to making a difference in the lives of others.
"It is our sincere pleasure to help defray tuition costs for these students and families who seek out opportunities to make an impact in their communities, and even the world," said Alliance Catholic President/ Chief Executive Officer Robert Grech. "We are fortunate that there are individuals such as these who illustrate how change begins with us."
Applicants were evaluated on merit, personal essay (and in one category) a short video component.
The finalists were honored during a scholarship celebration reception where each scholarship award winner was publicly-recognized.
ACCU gave away $500 to four families to offset their child's parochial education; $1,000 to seven in high school; and $1,000 to five currently attending college.
ACCU launches the annual scholarship program in late January. All members who are eligible are encouraged to apply.

TruNorth Announces Community Grant Program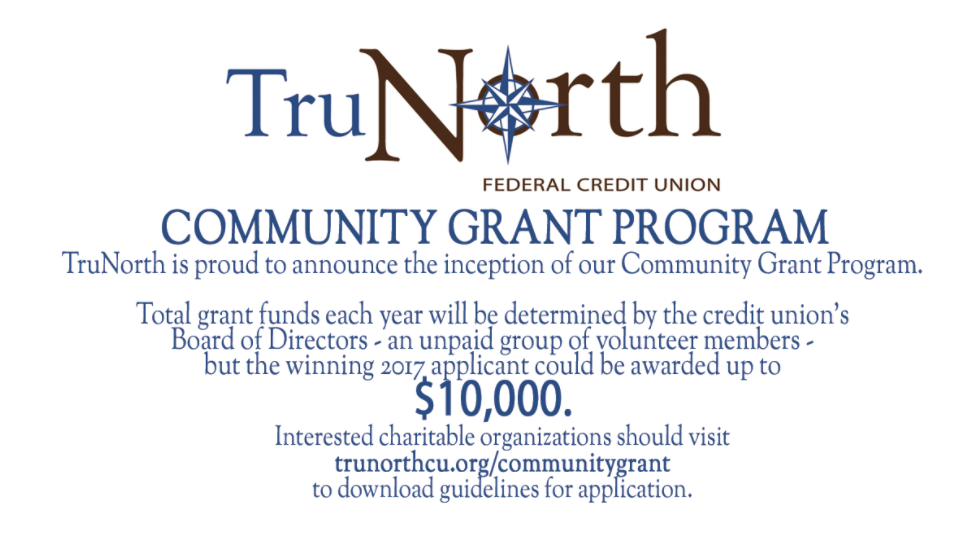 The Board of Directors of TruNorth Federal Credit Union – an unpaid group of volunteer members – would like to announce that the TruNorth Community Grant Program is now available. Total grant funds available each year will be determined by the credit union's Board of Directors, but the winning 2017 applicant could be awarded up to $10,000.
"This program was initiated to continue our support of our communities in a way that could enhance the lives of our membership and to build a strong community for long-term success," said George Isola, general manager of TruNorth.
Applications will be accepted through the end of June from community non-profit organizations working to improve the quality of life for local residents and build strong communities within TruNorth Federal Credit Union's field of membership (Marquette, Alger, Baraga, Dickinson and Iron counties). Projects that contribute to community improvements in arts and culture, the local environment, health and safety, basic human needs, recreation, and support for seniors and youth will be considered by the grant committee.
Charitable organizations should visit TruNorth website to download guidelines for application.

Genisys Credit Union Donates $1,000 to Leader Dogs for the Blind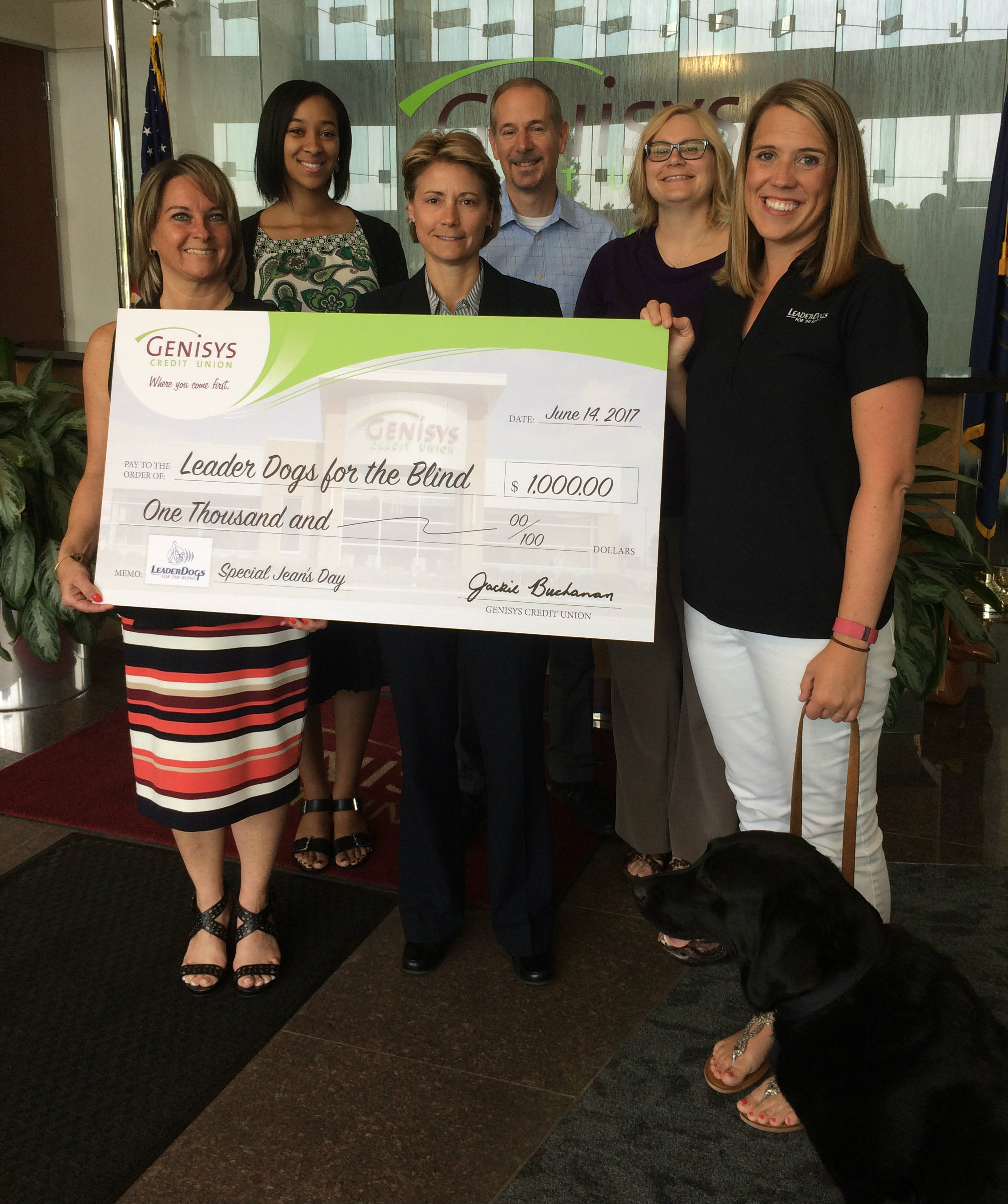 Genisys Credit Union held a special Jean's Day to collect donations for their friends at Leader Dogs for the Blind. Staff at the credit union received permission to wear casual work attire for one day as long as they contributed a minimum dollar amount to these helpful pups. A total of $1,000 was collected by staff members across the organization.
"We appreciate everything Leader Dogs for the Blind does for people in our communities," said Genisys President/CEO Jackie Buchanan. "Genisys loves giving back to organizations that also have a passion for Making a Difference."
Leader Dogs for the Blind, based out of Rochester Hills, Michigan, empowers people who are blind, visually impaired or Deaf-Blind with skills for a lifetime of independent travel, opening doors that may seem to have closed with the loss of sight. This organization was founded in 1939 as Lions Leader Dog Foundation. In the 1940s, support and donations increased while the Leader Dog's work and mission spread. In 1958 clients no longer needed to pay $150 to come train with a Leader Dog, opening the door to everyone in need regardless of ability to pay. Leader Dogs for the Blind continues to provide free services to clients today.

Advantage One Credit Union Named One of Michigan's Economic Bright Spots by Corp! Magazine
Advantage One Credit Union is a financial organization that has been serving southeast Michigan for 65 years, with more than $140 million in assets. This month the company announced it has been recognized by Corp! Magazine as one of Michigan's Economic Bright Spots for 2017.
For the 10th year, Corp! is celebrating companies that have continued to achieve economic growth and expansion while hiring Michigan's top talent. This year's 85 winners vary in size and operate in a wide range of sectors, including healthcare services, IT security, financial organizations, engineering and manufacturing. Winners were divided into large, medium and small business categories. Advantage One was selected for the medium category.
Advantage One was nominated for the Bright Spot Award because of their impressive loan portfolio and expanded field of membership. In the past year, they experienced a 21 percent loan growth and averaged a 20 percent annual increase during the last three years. "This has been a win-win for members and the credit union because it has enabled our membership to reach their financial goals and dreams while increasing Advantage One's profitability," said Christopher Corkery, CEO of Advantage One Credit Union. "Our credit union focuses heavily on providing financial education to both our members and the communities we serve. We take personal interest in helping our members take control of their money. Our staff will review an individual's current credit situation, explain what makes up their credit score and identify the steps to put them on the path to financial success."
Coverage will be featured in the July/August issue of Corp! Magazine, with a list and brief synopsis of all 85 winners. For more details about the Economic Bright Spot Awards and Corp! Magazine, visit corpmagazine.com.
Go to main navigation