In Brief...
Saginaw Medical Federal Credit Union Supports Local Peer Mentoring Group for Children with Autism
Saginaw Medical Federal Credit Union (SMFCU) raised $400 during the month of April for Ambassadors for Opportunity (AFO). Donations were collected from employee jean days and member contributions at both locations.
"We were extremely delighted to have the chance to work with AFO," said Laura Crase, president/CEO of SMFCU. "The organization has an amazing story which we are very proud to help support."
"Donations like yours are the reason we are able to offer special events to children with autism and their families," said Heather Turner, AFO vice president and cofounder. "Thank you for your very generous donation to AFO!"
AFO is a non-profit organization which provides peer mentoring services to children with autism, providing opportunities for autistic children and their families to participate in safe and friendly environments. Anyone interested in volunteering or finding out more about AFO can contact the company by email.

Michigan Legacy Credit Union Raises Money for Relay for Life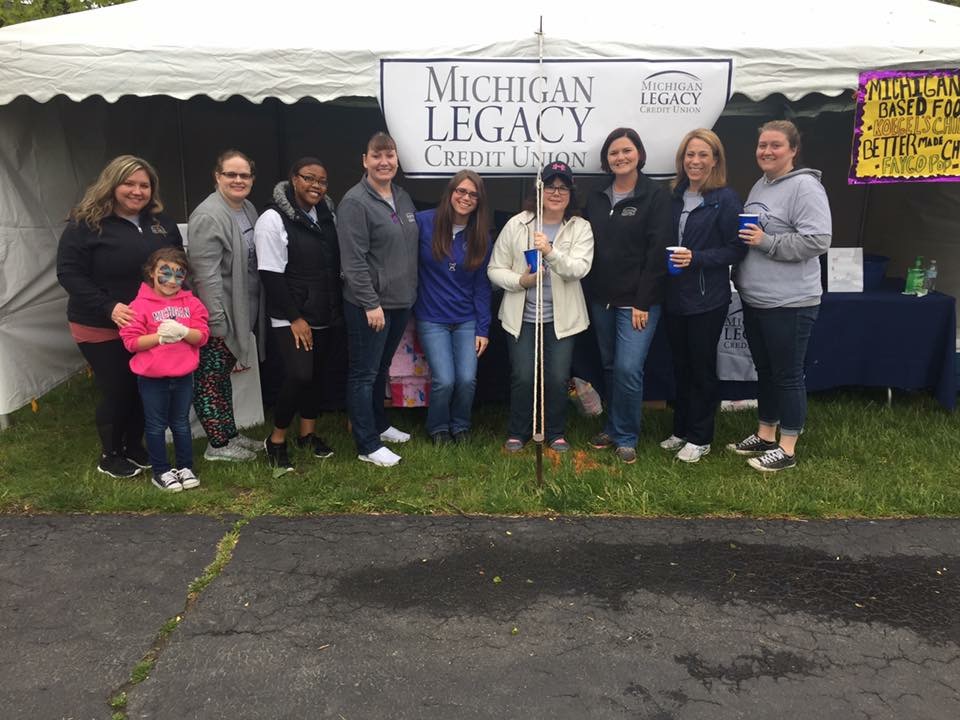 Michigan Legacy Credit Union's six branches have raised more than $7,000 to support the fight to eradicate cancer. The staff raised money by asking for donations, selling luminaries, individual Relay pages and selling shirts with the names of those who are fighting, have fought cancer, or in loving memory of those who battled cancer. At the event volunteers also raised funds by selling refrigerator magnets, blankets and car decals at the Taylor Relay for Life on Saturday, May 20 at Heritage Park in Taylor.
In the tradition of the Michigan based credit union the staff sold Michigan coney dogs, Bettermade chips and Faygo pop at the event. This is the second year the credit union has participated in this event.
Carma Peters, president/CEO said, "I am very grateful for the staff and our owners, who are dedicated and made this initiative such a success."
Since 2010, Michigan Legacy Credit Union has donated more than $49,000 back to its local communities. This does not include items collected such as food, clothing, back packs and school supplies.

Dort Federal Credit Union $1,000 Scholarship Winners Announced
The Dort Federal Credit Union Board of Directors announced the recipients of the 2016-2017 $1,000 Student Scholarship award. These seven students were selected based on a variety of criteria. All applicants were asked to submit transcripts, letters of recommendation and a brief essay describing what the credit union philosophy "People Helping People" means to him or her.
Caity Cox, Carman Ainsworth High School, Clarke University (Iowa), Psychology
Kyle Fulton, Davison High School, Grand Valley State University, Engineering
Casi Hudak, Goodrich High School, Michigan State University, Pre-Medicine
Nicholas Hughes, Grand Blanc High School, Eastern Michigan University, Mechanical Engineering
Jaclyn Komar, Lakeville High School, Mott Community College, Pre-Nursing
Ave'r McKay, Kearsley High School, Michigan State University, Human Biology
Sarah Parker, Powers Catholic High School, Grand Valley State University, Pre-Medicine or Physical Therapy
"We are thrilled about this year's pool of applicants for our scholarship. The number of community-conscious, ambitious young people in our membership astounds us every year," said Chairman of the Board, Douglas Kidd. "It is always difficult to narrow it down."
Go to main navigation