MSUFCU Announces 2017 Charity Partners
MSUFCU is pleased to announce that its employees have selected the Capital Area United Way, Many Hands, The Firecracker Foundation, Capital Area Humane Society and Stiggy's Dogs as its 2017 charity partners. MSUFCU employees will support each organization through fundraising and volunteer activities throughout the year.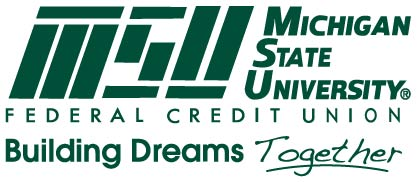 In previous years, MSUFCU employees selected one local charity to raise funds for during the first half of the year and the Capital Area United Way for the second half of the year. In 2016, more than $194,000 was raised through employee donations. This year, to broaden the impact upon local organizations, five charities were selected in the categories of education and outreach, environment and animals, and health and human services.
"One of our core values at the credit union is giving back to the community, and each year, employees go above and beyond to share their time and personal financial resources to support the charities we work with and our community," said April Clobes, MSUFCU President and CEO. "We're excited for the opportunity to partner with these organizations and look forward to supporting them in their efforts to create an outstanding community."
The Capital Area United Way supports tri-county programs and services that address complex health and human service problems. Their purpose is to provide local employers, employees and other donors a cost-effective system to address community health and human service needs through charitable gifts of time, money, and goods.
Many Hands is an organization that serves as a resource for communities in Michigan that wish to respond to systemic problems such as youth hunger or individual families experiencing a health or financial crisis. They fight hunger in elementary schools in Ingham County by providing "Weekend Survival Kits" to help provide nutritious meals during non-school hours.
The Firecracker Foundation provides child survivors of sexual trauma and their families with holistic healing services, such as individual mental health therapy, trauma-sensitive yoga therapy, and caretaker support groups. Therapeutic services are provided at no cost to families who cannot afford care elsewhere.
The Capital Area Humane Society shelters homeless animals, fights animal cruelty and neglect and offers many programs to help families provide for their animals, such as discounted vet services and an animal food bank. Their mission is to promote the humane treatment of companion animals through protection, placement, education and example.
Stiggy's Dogs is an organization that rescues and trains shelter dogs to be psychiatric service dogs for military veterans living with posttraumatic stress disorder and traumatic brain injury. The service dogs are trained and deployed at no cost to the veteran and provide a unique method of healing.
Go to main navigation