Credit Union Leaders Unite to Help Habitat for Humanity on International Credit Union Day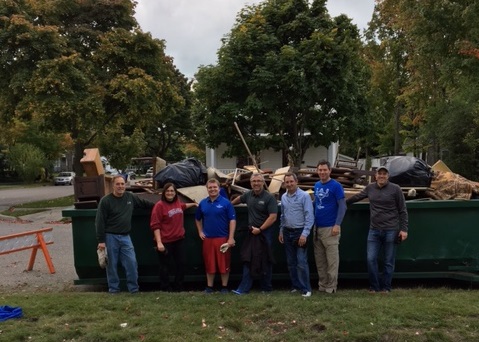 Forest Area Federal Credit Union (FAFCU), 4 Front Credit Union, Safe Harbor Credit Union (SHCU) and NW Consumers Credit Union (NWCCU) leaders took action in Ludington this month by cleaning out a home to be used by Habitat for Humanity demonstrating the credit union philosophy of "people helping people".
Taking part in an International Credit Union Day Pay It Forward initiative sponsored by the Paul Bunyan Chapter of the Michigan Credit Union League, leaders of area credit unions worked with the Habitat for Humanity nonprofit organization in Ludington to clean out a home to be used by this organization to meet the housing needs of an area family. Leaders from 4 Front, FAFCU, NWCCU and SHCU worked together to move furniture, appliances, unwanted items and trash out of the home to prepare it for renovations needed to make it a livable home for a local family.
"This is a great opportunity for us to give back to the community and to a nonprofit organization with some volunteering hours. As credit union leaders, it is up to us demonstrate and promote the people helping people philosophy that credit unions are known for. It is through the support and patronage of our communities that we continue to be able to provide the services that we do. It is only right that we give back to them every opportunity that we can," states Robert Raden, CEO of FAFCU.
FAFCU has a long standing history of embracing the credit union philosophy of people helping people through their Pay It Forward initiatives, Community Grant Program, their Humanity Fund and more. They also fundraise regularly for Children's Miracle Network, Juvenile Diabetes Research Foundation and local food pantries. This activity will be just one more way of giving back to the communities who have supported the credit union growth and success through the years.
Go to main navigation