Feedback Sought on Future League Leadership Sessions
"I loved how different this venue was and I love downtown Grand Rapids!" an attendee at the MCUL & Affiliates Intentional CU Leadership event wrote on their evaluation. Featuring Tim Harrington, Mark Arnold and Kevin Smith, the new training opportunity offered in late-September drew 100 participants to the Downtown Market Grand Rapids, a refurbished warehouse space featuring food vendors on the main floor and unique conference space on the upper floor set in an inspiring greenhouse.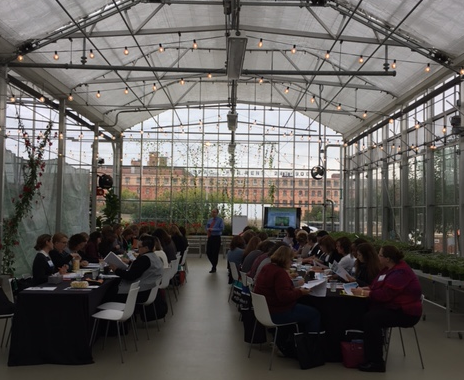 About half of the participants also attended an optional pre-event opener the evening before the session. Attendees noted it was "very engaging, especially in getting us to interact." Ninety-nine percent of those providing feedback about the event agreed they would like to see MCUL continue to offer more training like this, which featured individualized small group sizes in a non-traditional setting. Attendees particularly seemed to appreciate hearing the stories and experiences of what other credit unions are doing.
The day started with each of the three speakers giving a brief 18-minute TED-style presentation, allowing attendees to then choose who they would like to follow for the rest of the day.
"I liked having the ability to choose one area to focus on and still hear a brief summary of each topic!" shared one participant. "I enjoyed the entire experience!"
Registrants received an Individual Development Plan prior to the event, allowing them to customize the experience to their own goals. From developing their plan, to choosing their preferred speaker, to even selecting their own meals from the market with a provided meal certificate, the event was completely designed around attendees.
Session topics that participants could choose from included: "Five Habits of the Most Productive Leaders," "Change Agent Leadership" and "Transformational Leadership: Morphing Into a Mentor." Participants indicated that in the future they would be interested in attending training on time management, building delegation skills, transitioning from a team member to a leader and more.
Wish you had been able to attend or want to share thoughts on future training offered by the League? Input is being sought, so click here https://www.surveymonkey.com/r/KFSSQTF to answer this quick five question survey, or call the League at (800) 262-6285, ext. 225 to provide your ideas.
Go to main navigation