Act Fast for IRA Seats in Frankenmuth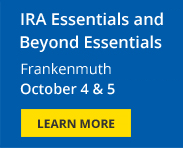 New and seasoned credit union staffers who work with Individual Retirement Accounts will find information to learn the basics, get a refresher or delve into advanced topics at training being hosted by the League on Oct. 4 & 5.

Attendees may choose to attend both days or just one. Day one covers IRA essentials with exercises to help participants apply information to job-related situations. Attendees will leave this session with a better understanding of how to work with IRA owners and process basic IRA transactions with confidence. This is a beginner's session; no previous IRA knowledge is assumed and it covers:
Introduction to IRAs
IRA Funding
IRA Distributions
Portability
Day two goes beyond essentials to build on the attendees' knowledge of IRA basics to address some of the more complex IRA issues their credit unions may handle. This is an advanced session and previous IRA knowledge is assumed or attendees may continue from day-one training to cover:
RMD and Beneficiary Issues
Beneficiary Options
Resolving Contribution Issues
Advanced Portability
SEP and SIMPLE IRA Overview
Registration is $199 per person, per day and the training is being held at the Bavarian Inn Lodge in Frankenmuth.

Go to main navigation