Calcite Credit Union Hosts Block Party for Cancer Survivors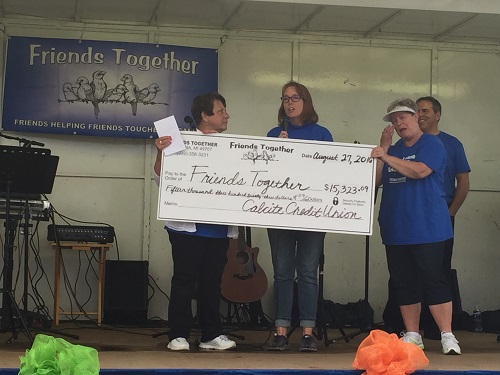 Last month, the Friends Together organization, along with Calcite Credit Union, hosted a summer block party in Rogers City to honor cancer survivors, caregivers and loved ones no longer in Presque Isle County.
More than 150 people showed up at Saturday's event, which featured live music, kids' activities, a food vendor sponsored by the Kiwanis Club of Rogers City and more. Survivors were gifted a free t–shirt and caregivers received a special hero bookmark.
Calcite Credit Union believes in this organization and supports the founder's message that it's important that communities join together to help cancer patients so they don't have to walk through their journey alone. Cancer affects so many people and as a community credit union, Calcite can give support through their communities.
"It makes a difference so they don't feel like they're walking that journey all alone. They have a community of family and friends who are there with them," said Judy Burns, founder of Friends Together.

Calcite Credit Union raised over $15,000 for Friends Together. The funds will go toward helping Presque Isle County cancer patients with the cost of their medical needs.
Go to main navigation