In Brief...
DCECU & Garber Chevrolet Stuff the Bus to Start the School Year Right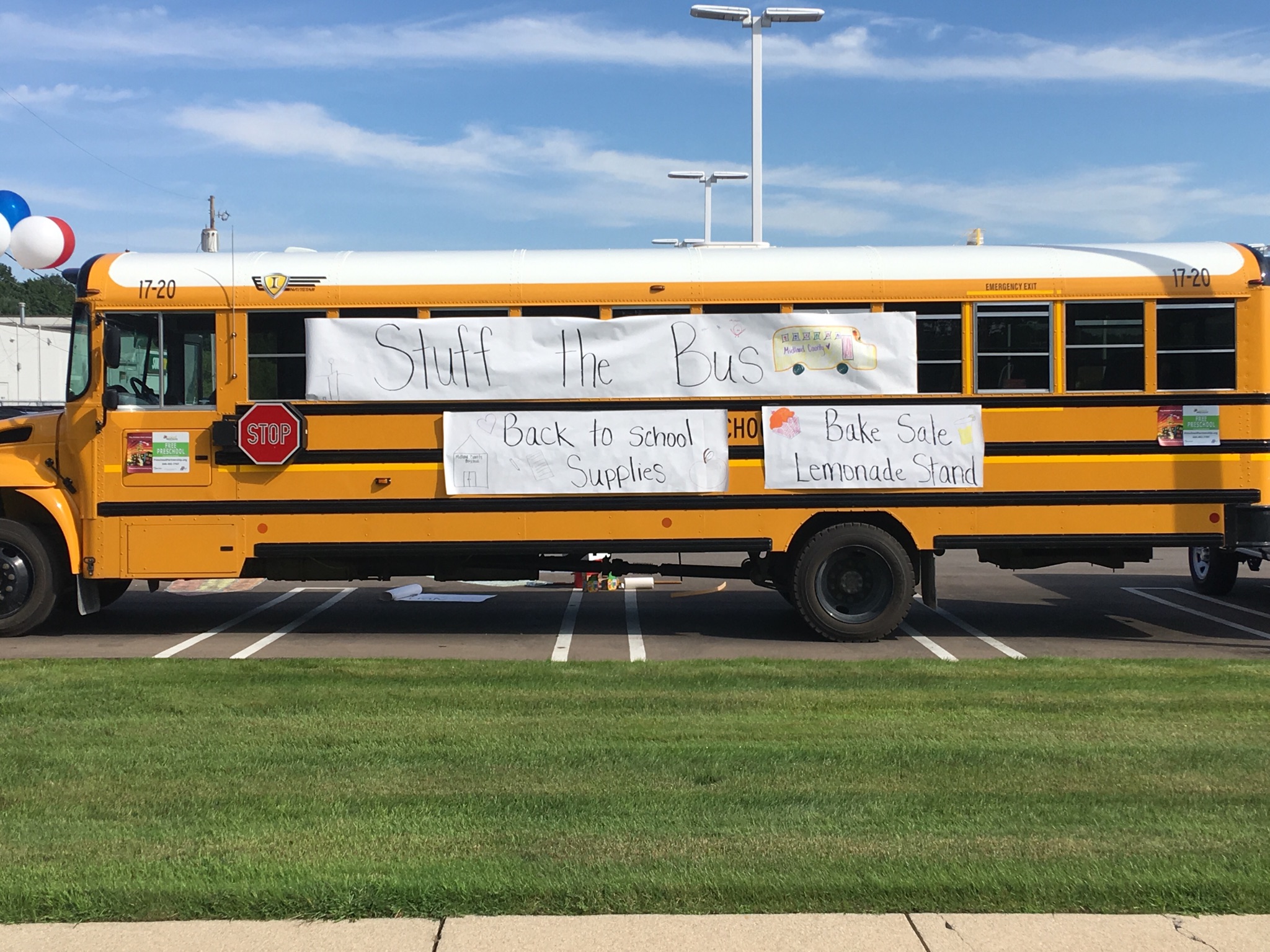 Over 1,000 school supplies and non-perishable food items were collected at Dow Chemical Employees' Credit Union (DCECU) in Midland the week of Aug. 22, in partnership with Garber Chevrolet's "Stuff the Bus" campaign. DCECU's relationship with Garber Chevrolet goes beyond indirect lending as they both share a passion for giving back to the community where they reside. "Joining Garber in the 'Stuff the Bus' campaign was an excellent opportunity to combine efforts in support of Midland County Early Childhood programs, children and their families," said DCECU Director of Consumer Lending, John Costello.
DCECU served as a collection site for this campaign; encouraging both staff and members to participate and make a difference in the community. Dow Chemical's employees accepted the challenge and engaged in a healthy battle between departments to collect the most items. This resulted in two fully-loaded vehicles heading over to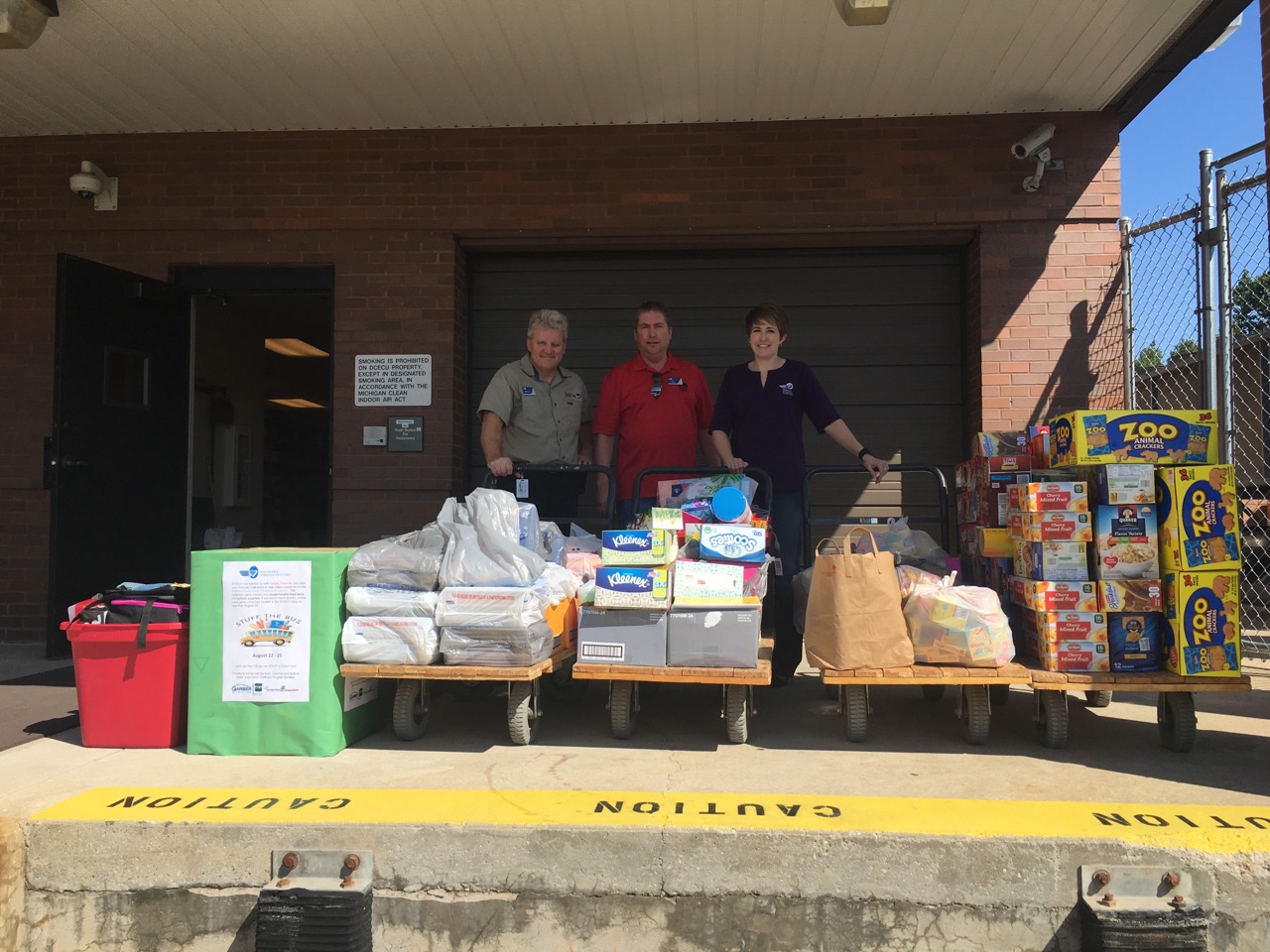 Garber Chevrolet on Aug. 26 where the bus was stuffed!! Garber pulled out all the stops that day by hosting a bake sale and lemonade stand alongside the big yellow school bus.
Every child deserves to start out the school year strong. Midland County Early Childhood programs benefit 3-5 year old children and their families in Midland, Sanford, and Coleman counties and the Bullock Creek area. Providing extra resources to low-income families supplements their basic needs and ensures strong first steps in the education of these young children. Liz Cummings of the Midland County ESA was thrilled with the impressive results of this event since it was pulled together in a very short time. "Every seat on the bus was full which provided twelve full backpacks to each of six different locations," she reported.
DCECU cares about our community and appreciated the opportunity to partner with Garber Chevrolet to support programs that benefit the lives of individuals surrounding us. DCECU wishes all students a great start to the school year!
Michigan Business Connection Announces Partnership with TLC Community Credit Union
Michigan Business Connection (MBC) in Ann Arbor is pleased to announce that TLC Community Credit Union (TLC) has partnered with them for commercial lending servicing and support.
MBC President and CEO Bill Beardsley welcomes TLC and looks forward to a successful relationship for years to come. "As the largest financial institution headquartered in Lenawee County Michigan, TLC plays a vital role in the region's economic development, and has been very successful in growing a high quality commercial lending program. We have customized a service engagement with them that will let them spend more time with their members and in their communities and help take that success even further," stated Beardsley.
Today, TLC Community Credit Union is recognized in the top 10 percent of credit unions in the nation when measured by size and net worth. As a full financial service credit union, they now serve more than 46,000 members and manage more than $400,000,000 in assets. Robert Schrock II, Senior Vice President stated, "Working with MBC has been a breath of fresh air. The MBC team has been responsive to our needs, easy to work with and offers a wealth of commercial lending knowledge and support."
Extra Credit Union Debuted Building Renovations at Ribbon Cutting Ceremony on Sept. 14
If you've stepped foot in Extra Credit Union's Main Office recently, you've noticed things look a little different. Well, a lot different. Gone are the drab greens of the late 90's. In are the bold patterns, vibrant colors, and overall modern and updated look.
The credit union staff and local officials celebrated the long-standing financial institution's new look with a ribbon cutting ceremony on Sept. 14. A celebration of giveaways and activities followed the ribbon cutting ceremony from 11a.m.-3p.m.
Extra Credit Union invited the public to come out and celebrate its new look, as well. Festivities included: free document shredding, an ice cream truck, drinks and food and a chance to enter the cash grab machine to grab some free money!
The major interior renovations, which were done in various phases from April-August, are the first the credit union has undergone in more than 15 years. Renovations include new flooring and wall coverings; updated lunchroom, conference rooms and offices; some new furniture and lighting; and more.
"We've been so focused on putting our profits back into our products and services and giving back to our members, as is still the case, that some of our building's maintenance and interior updates had gotten pushed back for quite some time now," said Deidra Williams, Extra Credit Union President and CEO. "We're happy to have a fresh, updated environment that our staff and credit union members are able to enjoy."
Alpena Alcona Area Credit Union Supports Alcona County 4-H Livestock Sale
Alpena Alcona Area Credit Union (AAACU) is proud to support the youth in its communities. Over the past several years, AAACU has attended the 4-H Livestock Auction held during the Alcona County Fair.
This year, the credit union purchased a pen of three bunnies from Taylor Sobeck as well as a roaster rabbit from Cecelia Spears. AAACU then donated the animals back to be resold. All proceeds from the resold animals will benefit the local 4-H program.
Funds raised will help support 4-H educational activities for area youth, teaching them leadership and hands on skills in various fields such as agriculture & engineering as well as providing scholarships to 4-H students
Catholic Vantage Financial hosts free Shred Day event in Livonia on Sept. 24
Catholic Vantage Financial (CVF) will host a free document shredding day for the community on Sept. 24. The public is invited to bring personal papers and documents for shredding from 9a.m.-1p.m. at the credit union's Livonia branch located at 36111 Five Mile Road, just east of Levan Road.
"We are committed to helping people in the community safeguard their identity and personal information," said Emma Teller, CVF's vice president of marketing and business development. "It also helps to reduce landfill and protect the environment."
Go to main navigation