Campaign Sponsored by Alliance Catholic Credit Union Donates School Supplies
Holy Redeemer and Most Holy Trinity grade schools in Southwest Detroit were facing a shortage of school supplies for the upcoming school year, but little did they know Alliance Catholic Credit Union (ACCU) would step up and deliver in such a large way.
"We at Holy Redeemer are in awe of the generosity of the Alliance Credit Union community," said Mary Beth Kiley, Principal of Holy Redeemer Grade School. "The oohs and ahs of our students upon seeing all the new supplies as they entered on their first day of school was so heartwarming."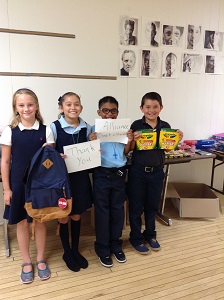 ACCU's annual school supply drive, "Pack to Give Back," garnered more than 1,000 school supplies that it divvied up between the two Catholic schools. Donations were pooled from members and staff at the financial institution's eight branches located throughout Southeast Michigan.
"Most Holy Trinity School is able to provide an excellent Catholic education in Corktown with the help of many people," said Msgr. Chuck Kosanke, Pastor of Most Holy Trinity Parish. "We are very grateful to everyone who generously donated school supplies through Alliance Catholic Credit Union."
This marks ACCU's second year of collecting school supplies to help students in need start off the school year well-equipped. The initiative aligns with ACCU's long-standing commitment to helping local communities.
"I'm always proud to serve Detroit District 6 and the Catholic community," said Anthony Luevanos, Director of Corporate Relations for ACCU. "Through our charitable service campaigns such as 'Pack to Give Back,' it is our privilege to actively invest in our local communities and provide resources to families or individuals who may need some support."
Go to main navigation