In Brief...
Credit Union ONE Walks for Life to Support Organ and Tissue Donation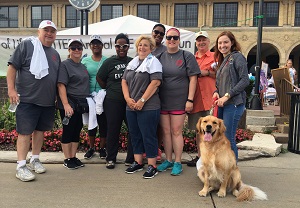 Credit Union ONE in Ferndale was a sponsor of the 19th Annual Gift of Life Walk/Run benefiting the Minority Organ Tissue Transplant Education Program (MOTTEP) on July 30 at Belle Isle State Park.
For the fourth consecutive year, Credit Union ONE employees participated in the event and joined MOTTEP in celebrating those who have given the gift of life through organ and tissue donation. The event included a 5K and a 10K race, as well as a 5K walk. MOTTEP's Gift of Life Walk/Run is Michigan's largest event promoting organ and tissue donation. This year's event raised more than $69,000.
"The Life Walk brings together so many and it's always heartwarming to hear the experiences of those who have been affected by an organ or tissue donation," said John Kozich, Vice President of Community Relations for Credit Union ONE. "It's a cause we're proud to support."
MCCU Donates to Miles for Memories
Marshall Community Credit Union recently made a donation of $100 to Miles for Memories, a grassroots effort to change the face of Alzheimer's disease and other dementias in Calhoun County, through movement, programming and research.

"Our branch is located directly across the street from Calhoun County Medical Care Facility, where the event took place, so it only made sense for us to donate in some way," said Andrea Tucker, MCCU Financial Education Coordinator. "Our office has worked on several events with the CCMCF staff and we are honored to be able to support their cause" she continued.

Miles for Memories volunteers rocked (in rocking chairs) for 27 straight hours from Aug. 19-20 at the medical care facility. Twenty seven hours, one hour for each town, city and village in Calhoun County.
DMCU Hosts Detroit River Town Meeting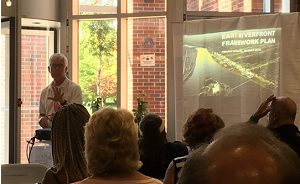 Diversified Members Credit Union hosted the Rivertown Detroit Association's August meeting which featured the Rivertown's Economic Development team. Vince Keenan, City of Detroit District 5 manager, spoke at great length regarding the exciting development plans for the downtown Detroit area—specifically along the Detroit River.
Over 50 local business owners and community members attended the event and received the opportunity to interact with the Design Project leaders in the open forum and panel discussion.
Dort Federal Credit Union Hosts Fourteenth Annual Membership Appreciation Movie Day
Dort Federal Credit Union in Flint hosted their fourteenth Annual Membership Appreciation Movie Day on Monday, Aug. 8. Dort Federal members and their guests enjoyed a free movie day at NCG Trillium Cinemas in Grand Blanc, NCG Cinemas in Lapeer, and NCG Cinemas at Courtland Center in Flint.
Nearly 11,000 members attended with just over 41,000 complimentary movie tickets distributed throughout the day. Dort Federal Credit Union members could receive a maximum of four free tickets by showing proof of membership and photo identification at the theatre.
"Membership Appreciation Movie Day is by far our favorite day of the year at Dort Federal Credit Union" said Vicki Hawkins, President and CEO of Dort Federal Credit Union. "We are able to demonstrate our appreciation in a truly unique and valuable way, giving our members an experience with their family and friends."
Go to main navigation