DMCU Members and Staff Make Large Donation of School Supplies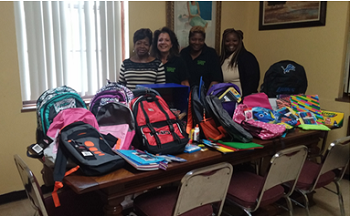 Adding to an already long list of charity work, Diversified Members Credit Union is at it again. Recently, DMCU helped collect donations of school supplies for the YWCA Interim House 5th annual Back to School event-an event DMCU plans to assist with annually.
In total, 30 backpacks and numerous school supplies were donated by both DMCU staff and members. "When we come together for a cause, it's amazing what we can accomplish," said Kathie Trembath, CEO of DMCU.
Look for more upcoming charity events at DMCU over the coming months, including a non-perishable food drive, a children's toys drive, and more! For more information about The Interim House visit www.ywcadetroit.org.
Go to main navigation