It's Not Too Late to Sign Up for the 2016 Grand Raffle
The 2016 Grand Raffle has launched, and forms to sell 2016 Grand Raffle tickets have come flooding in. If you have yet to send in your ticket order form, it's not too late.
The grand prize winner will choose between $20,000 cash or the same amount put toward the price of a 2016 Buick Verano or GMC Sierra 1500. The seller of the winning ticket will receive $500.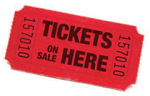 There will be a second-place prize of $5,000 and five third-place prizes of $1,000. Each winning ticket seller of the second- and third-place prizes will receive $100. The drawing will be at 9 a.m. on Monday, Nov. 21, at MCUL's headquarters in Lansing. In 2015, credit unions helped raise $245,720 for the Federal PAC.
This year, we have decided to bring back the discount packs—5 tickets for $20. There are a limited number of discount packs, so get them while they last.
For more information on the Grand Raffle or to sign up, contact Kathryn Hall or by phone at (800) 262-6285, ext. 470.
Go to main navigation