Capitol Area Chapter Sees Large Turnout at Legislative Breakfast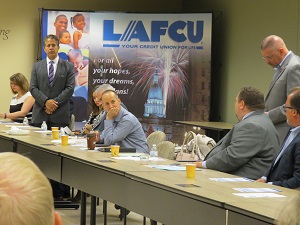 The Capitol Area Chapter hosted a legislative breakfast on May 20 in Lansing with federal and state elected officials and staff. Fifty-five credit union leaders were on hand to discuss current state and federal legislative issues.
Congressman Mike Bishop was in attendance along with staff from Congressman Moolenaar's office, as were state Senators Curtis Hertel and Rick Jones, Bruce McAttee from Sen. Gary Peters' office and Representatives Sam Singh, Andy Schor, Tom Cochran and Tom Barrett. Discussion consisted of active state and federal credit union issues, including the passage of the Michigan Credit Union Act update, regulatory relief, data breach and payday lending.
Capitol Area Chapter chair Michael Loucks from LAFCU told attendees, "Credit union issues are important to Michigan, and legislators are listening. Our largest turnout ever of CU officials underscored the importance to the assembled lawmakers and staff."

Chapter legislative breakfasts are a great way to interact and share the credit union difference with local elected officials. To schedule a chapter legislative event, contact Political Affairs Coordinator Haleigh Krombeen or via phone at 800-262-6285 ext. 459.
Go to main navigation